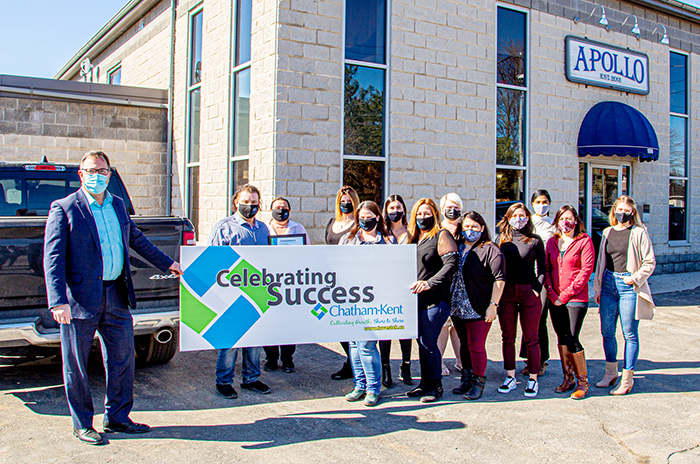 Two decades ago, it began with three employees and a dream.
Today, Blenheim-based Apollo has evolved from focusing on general contracting to adding a millwright division and a property division.
Samantha McFadden, marketing director for Apollo, said the company is the brainchild of Fred Naclerio, who was born and raised in Chatham-Kent.
The company got its start in a rather niche market.
"When Apollo General Contracting got started, it was mainly renovating grocery chain stores," McFadden said.
From there, the company developed and opened a millwright division, making the shelving units for the stores Apollo renovated. That was 2003.
At the same time, Apollo added a logistics element as well.
Six years later, in 2009, Apollo Property Management was added. The first property the company took over was Franklin Square on Richmond Street in Chatham, McFadden said.
Today, the company owns 80 properties, a mix of commercial and residential, and has more than 225 tenants.
"It has certainly expanded. Now we have quite a few spread across Chatham-Kent and also a property in London," McFadden said. "Fred just loves to see how he can develop a building. He loves to go in and purchase an older building, then update the facade and help businesses grow. That's how he got into it."
But Apollo doesn't just help its tenants. The company supports numerous local charities, especially the Children's Treatment Centre of Chatham-Kent.
"We love to give back to the community. It's really important for our community to thrive. Any way we can help is important to us," McFadden said.
Naclerio, outside of Apollo, also is half owner of Willow Ridge Golf & Country Club, and started Magna homes last year.
"We've expanded so much compared to where we started in 2001," McFadden said.
But the effort has been one of teamwork.
"We couldn't have done it without our hard-working employees and the support of the community," McFadden said.
Comments
comments