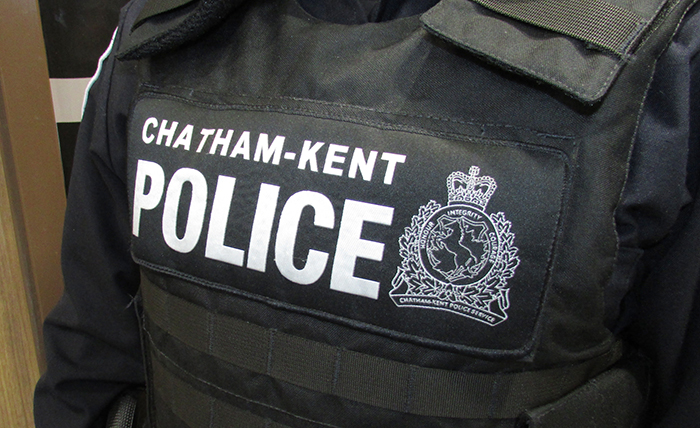 Anger issues?
A man, in custody already for domestic violence, freaked out at Chatham-Kent police headquarters yesterday.
The man became quite angry while speaking with his lawyer, police say, to the point of breaking the phone by smashing it off the door of the private booth in which he was sitting.
The 28-year-old Chatham man will spend a few days in jail and has a mischief charge added to his resume of alleged dubious activities.
Teen faces assault charges
Last night, police responded to a disturbance at a residence in Dover Township.
Through investigation, police learned that the youth assaulted three people in the home.
The 15-year-old youth was arrested and charged with two counts of assault with a weapon and two counts of assault. He has been held in custody pending a bail hearing.
Vehicle narrowly misses two pedestrians
After slamming into the back of another vehicle, hopping a curb and nearly hitting two pedestrians, a Chatham man will have to answer to impaired driving charges.
It all happened about 3:30 p.m. Tuesday, police say.
Officers located the vehicle and through investigation believed the man was driving while impaired.
The man was arrested and transported to police headquarters where a Drug Recognition Expert conducted an evaluation. As a result, the DRE officer believed the man was impaired by a drug.
A 55-year-old Chatham man is charged with impaired driving.
Man boots down door, charged
On Monday, police responded to a mischief complaint at a local motel in Chatham.
Through investigation, police learned that the man kicked a locked door to gain entry into a room.
Damage was estimated at $300.
The man fled on foot prior to police arrival.
Yesterday, police located the man and he was arrested.
A 32-year-old man of no fixed address is charged with mischief.
Booze, drug charges
Last night, an officer on general patrol initiated a traffic stop in Wallaceburg.
Through investigation, the officer learned that the woman was suspended from driving and open liquor was observed in the centre console of the vehicle in the cup holders.
The woman was also found to be in possession of suspected oxycodone.
A 33-year-old woman of no fixed address was arrested and charged with driving while under suspension, driving a motor vehicle with open liquor and drug possession.
B&E
Sometime Monday night or Tuesday morning, someone entered a fenced compound on Queen Street in Chatham and stole various tools from a locked Bell Canada truck.
Police say the total value of the theft has been estimated at $5,000 to $10,000.
Anyone with information is asked to contact Const. Jason Hamm at jasonha@chatham-kent.ca or 519-436-6600 ext. 87344. Anonymous callers may call Crime Stoppers at 1-800-222-TIPS (8477) and may be eligible for a cash reward.
Slow down, folks
Yesterday afternoon, Chatham-Kent police were out with their radar guns on Fairview Line.
Twenty motorists were stopped and charged with speeding.