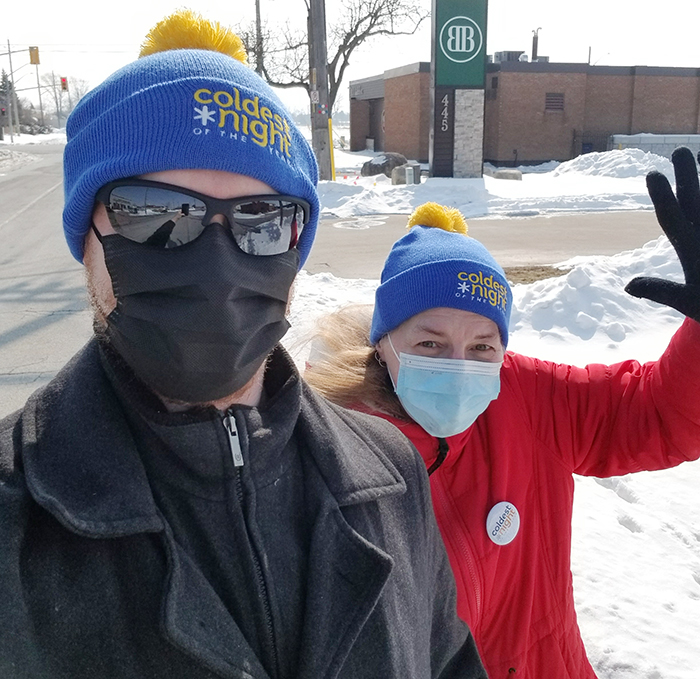 Effort raises a record $50K-plus in C-K
By Bruce Corcoran
Supporters couldn't gather en masse Saturday to raise funds for the homeless, but that did not stop them from showing their support at record levels.
Al Baker, Chatham-Kent NeighbourLink Network co-ordinator, and organizer of the Coldest Night of the Year (CNoY) event locally, said folks raised $50,000 and counting this year.
The past two CNoY events in Chatham each topped $30,000. For this year, the fifth annual, Baker set a goal of $30,000 again.
He is smiling today.
Baker said the pandemic may have prevented people from gathering together at one location to walk to support CNoY, but it contributed heavily to raising overall awareness of the needs homeless people face.
"People are much more aware of those living in poverty and those living in isolation than they were before," he said. "The community got the message of the great need out there and responded accordingly."
The virtual event allowed supporters to take part when they wanted to.
"People really liked the idea. They could walk when and where they wanted," Baker said. "They did everything online, from collecting their pledges to putting their teams together."
Baker said the chance to support the homeless locally, and to get outside and walk, seemed very enticing.
"People have been indoors so long. Getting out and walking is one of the few things we've been allowed to do," he said. "People saw an opportunity to get out and get some exercise and do some good at the same time."
The pandemic has also placed Chatham-Kent's "hidden homeless" in more of a place of visibility.
"A lot of our homeless are hidden as a lot of them are couch surfers (people staying at the homes of several friends or family members). When the pandemic hit, those couch surfers got kicked out," Baker said. "The visible population of homeless people basically doubled overnight."
Baker said the CNoY numbers are still coming in, as participants have until the end of March to submit their information.
The CNoY event is sponsored by NeighbourLink, a group supported by a network of local churches that works together to respond to needs in the community.
Prior to the event, Mayor Darrin Canniff said COVID-19 has made life more difficult for those without shelter in the community.
"The snow and cold weather (recently) has been an inconvenience for most of us in the community," he said in a media release. "For those without shelter, it has been much more serious."