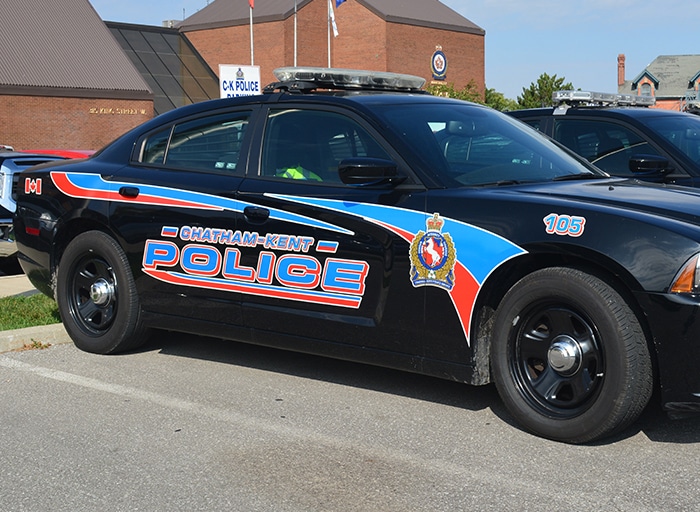 B&E info sought
Chatham-Kent police are looking for information regarding a break and enter in Chatham.
Sometime between Feb. 19 and Feb. 21, someone entered a secured compound on Seventh Line near Chatham and removed an unplated pickup truck. On Feb. 21, the Chatham-Kent Police Service located the vehicle abandoned on Taylor Road, Howard Township.
Anyone with information is asked to contact Const. Trevor Biskey at 519-436-6600 ext. 87311 or trevorb@chatham-kent.ca. Anonymous callers may call Crime Stoppers at 1-800-222-TIPS (8477) or submit a tip at https://crime-stoppers.on.ca/ and may be eligible for a cash reward.
Warrant
The Chatham-Kent Police have arrested a man wanted on an outstanding warrant for break and enter and two counts of uttering threats.
On Feb. 22, at approximately 9:45 p.m. the 36-year-old man was arrested on Joseph Street in Chatham.
Scam warning
With tax season around the corner, the Chatham-Kent Police Service would like to remind the public about Canada Revenue Agency (CRA) scams.
Did you get a suspicious e-mail, phone call, letter, or text message from someone claiming to be from CRA? Scammers pretending to be Canada Revenue Agency (CRA) employees often contact Canadians to trick them into paying fake debts.
Make sure the caller is a CRA employee before handing over money or personal information on the phone. You can ask for, or make a note of, the caller's name, phone number, and office location, and tell them that you want to first verify their identity. You can check that the call you received was in fact from the CRA by calling:
1-888-863-8657 for individual debts
1-877-477-5068 for GST/HST debts
1-866-864-5823 if the call you received was about a government program such as employment insurance or Canada Student Loan debts.
When in doubt, ask yourself
Why is the caller pressuring me to act immediately? Am I sure the caller works for the CRA?
Did I file my tax return on time? Have I received a notice saying I owe taxes?
Have I received an e-mail or letter from the CRA about the subject of the call?
Does the CRA have my most recent contact information, such as my e-mail and home address?
Is the caller asking for information I would not include on my tax return or that is not related to money I owe the CRA?
Do I have an instalment payment due?
Have I received a statement of account for funds owing to a government program?
For more information visit canada.ca/taxes-fraud-prevention.
Want to report a potential scam?
To report a scam, visit antifraudcentre.ca or call 1-888-495-8501. If you think you may be the victim of fraud or you unknowingly provided personal or financial information, contact your local police service, financial institution, and credit reporting agencies.