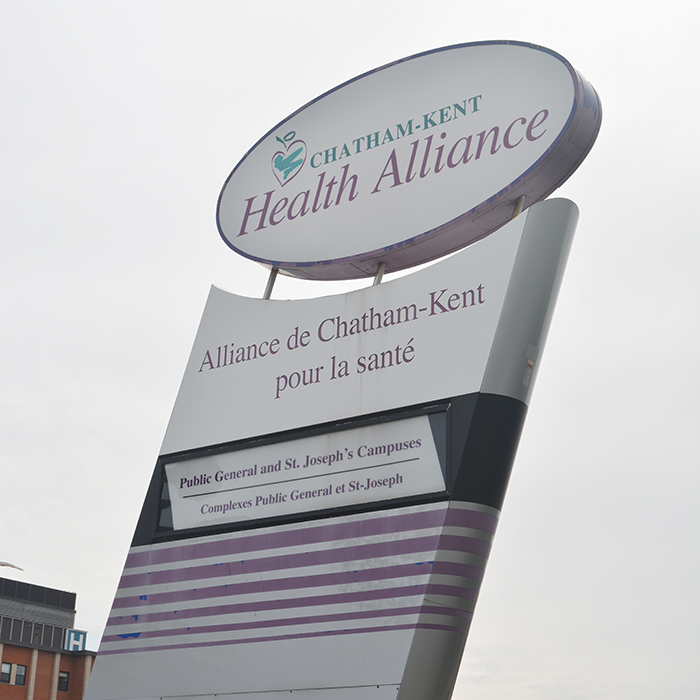 CEO reassures public on CKHA safety amid COVID Unit 'outbreak'
By Jenna Cocullo, Local Journalism Initiative
The president and CEO of the Chatham-Kent Health Alliance (CKHA) is reassuring the public that the hospital remains safe for individuals seeking care, after an outbreak (two people) was declared on its COVID Unit.
"The outbreak is limited to that particular unit," Lori Marshall said. "What I want to assure the community is that the Chatham-Kent Health Alliance remains a safe place for people to come and access their care."
On Wednesday, one staff member and one patient on the COVID Unit received positive tests for the virus, prompting CK Public Health to declare it to be in outbreak on Thursday morning.
"And so whether individuals who have been scheduled for surgery, or whether it is someone who needs to access our emergency department, I do not want the community to be concerned about whether or not they should be coming in," Marshall said.
The COVID Unit consists of 12 beds all separated in private rooms.
Currently, there are 11 patients occupying the unit and nursing staff have been tasked solely to that unit to prevent potential spread to other areas. Other staff, such as lab technicians or clinicians, who need to move around the hospital, will follow strict protocols put in place.
Admissions to the COVID unit will be closed until the outbreak ends, unless there is a confirmed case prior to admission, Marshall said. There will also be no transferring patients off the unit unless medically necessary.
Previously, CKHA was letting patients with suspected cases to be admitted into the COVID Unit. A suspect patient is someone who comes into the organization with symptoms and are being swabbed.
Marshall said that suspect cases usually turn out to be positive and since the COVID Unit is made up of private rooms, it is the best place to admit them while they await results. When they become cleared they are moved to another unit. Suspect patients who do not require the Intensive Care Unit will be admitted elsewhere at CKHA in a private room.
Fewer than five staff members are currently positive with COVID-19, however, no outbreaks were previously declared because transmission did not occur within the hospital.
Under provincial directives, an outbreak is declared when there are at least two people who test positive for COVID-19 within the same 14-day period and transmission can be traced within that institution. Long-term care homes are the only exception, as they require only one positive case to be designated as an outbreak.
Dr. David Colby, Chatham-Kent's medical officer of health, said that there was "obviously" transmission between patient and staff, but it is still under investigation which one initially contracted the virus. He added that so far, CK Public Health found "no breakdown" of COVID-19 safety precautions among the staff.
Marshall also noted that the news of the outbreak comes during Bell Let's Talk Day, a campaign started to raise awareness and combat stigma surrounding mental illness, and took the opportunity to note the effects COVID-19 had on staff.
"The stress of the pandemic is significant for those who are working in health care and this would be an instance that would add to that stress in our organization. So I want to take this opportunity to really acknowledge both that and to thank all of them for the great work there."
Comments
comments