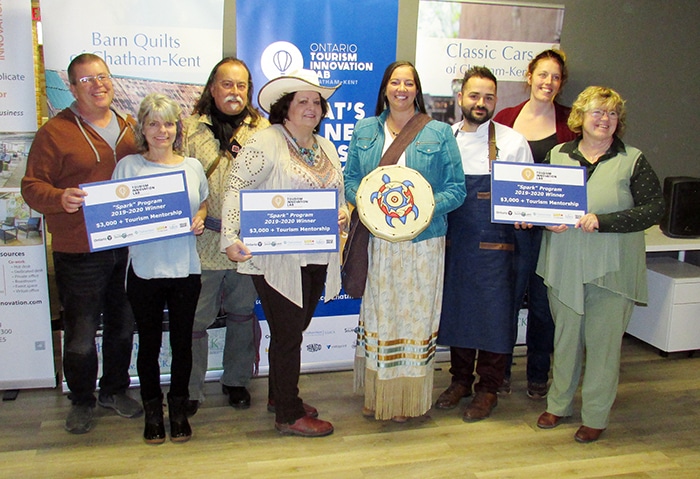 By Bruce Corcoran
Chatham-Kent Tourism is once again looking to add a spark to ignite the ideas of local business owners.
The second Spark program is underway. The program matches selected applicants with a mentor and provides a $3,000 grant to help take their tourism initiatives to the next level.
This follows on the heels of Spark 2020, where on Jan. 8 of last year, five groups pitched their concepts before a team of judges, who chose their top three to receive the grant and mentoring support. In all, 17 groups or individuals applied last year.
Shannon Paiva, supervisor of tourism development for the Municipality of Chatham-Kent, said last year's interest helped lead to the program's return.
"The first one was such a success, we brought it back," she said. ""We brought it back because it showed projects coming to fruition. Often, you hold these types of things and programs fizzle out. In this case, the grants help them become viable."
In some cases, Spark can get a business idea off the ground. In others, it could allow an existing business to expand.
"You have businesses adding to their business model. You aren't giving somebody a grant and saying goodbye to them. You are able to work with them. And it benefits Chatham-Kent tourism overall," Paiva said.
Last year's Spark program helped three groups: TJ Stables for further developing their spirit horse program and facilities, Dan and Ann Wright for their effort in what they call "forest therapy," and The Fresh Connection for that group's farm-to-plate efforts.
Paiva said TJ Stables and the Wrights continue to actively work to develop their plans, despite the fact the COVID-19 pandemic has slowed everything to a crawl. As for The Fresh Connection, Paiva said behind-the-scenes work is underway, but not much else can happen due to the pandemic restrictions.
The Fresh Connection was the brainchild of three people, Susanne Spence Wilkins of Crazy 8 Barn & Garden, Thomas Waite of Prim Peony Event Co. and The In Home Chef, and Tabitha Hastings of Urban Sunset Farms. The concept was one of farm-to-plate tourism. With the pandemic in full force, the effort is on hold.
TJ Stables plans to expand their connection with First Nations and further promote the fact spirit horses are on site.
The Wrights plan to further develop their 72-acre property near Bothwell to serve as a place of forest therapy; essentially getting back to nature by taking a quiet walk in the woods.
This year's Spark program is now open for applications.
Chatham-Kent Tourism is available to assist businesses looking to apply for the Spark program and can be contacted by e-mail cktourism@chatham-kent.ca or by phone at 1-800-561-6125. Additional information on the program can be found at tourisminnovation.ca/ChathamKent.
This year's program is also entirely online. Virtual information sessions are slated for Feb. 11 and 17, Paiva said, and registration is required for both.
She said the sessions are an excellent way for interested persons and businesses to learn about the Spark program.
Deadline for applications is March 5, and the sales pitch session, also online, will take place March 30.
Once again, five applicants will be chosen to pitch their ideas and three will receive grants and hands-on support.
Paiva encourages people to let their ideas flow.
"Anybody who has an idea they want to enhance and make into an experience.
Something that motivates people to spend more time at a place," she said. "That's what we're looking for. And we hope it connects with what's happening in Chatham-Kent overall."
The goal is to find, foster and support new tourism ideas, experiences, and partnerships that will enhance current offerings, address gaps, motivate travel and increase visits year-round, according to municipal officials.
Paiva said organizers are especially interested in ideas that connect with one or more of the following areas: agri-culinary, angling, Black History, culture, First Nations and the War of 1812, small towns, villages and rural landscapes.
Organizers are also interested in tourism ideas that are enabled by technology, incorporate sustainability principles, celebrate diversity, adapt to the evolving travel landscape, and build future resilience.
The Chatham-Kent "Spark" Program is a partnership between the Ontario Tourism Innovation Lab, Southwest Ontario Tourism Corporation, Chatham-Kent Tourism, Chatham-Kent Economic Development, Community Futures Development Corporation of Chatham-Kent, SOAR Innovation, Tourism Industry Association of Ontario, WEtech Alliance, Digital Main Street, and the Federal Economic Development Agency of Southern Ontario.