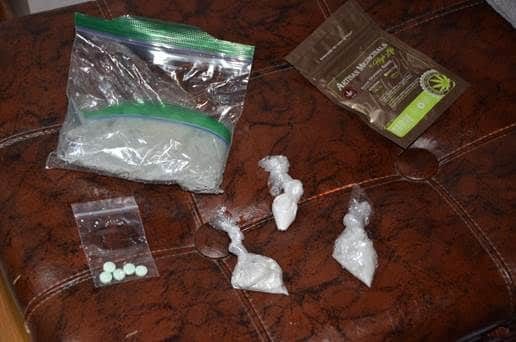 Three individuals were arrested in Chatham after police seized approximately $20,000 worth of suspected cocaine, methamphetamine and oxycodone tablets.
The Chatham-Kent Police Intelligence Unit with the assistance of the Critical Incident Response Team, executed a Controlled Drugs and Substances Act warrant at a residence  on St. Clair Street, Chatham.
In addition to the drugs,  police also seized digital scales, packaging materials, cellular phones and a large quantity of cash.
Theodore Worth, 47, and Chantelle McGee, 40 were each charged with three counts of possession for the purposes of trafficking, and were released pending a future court date of December 17, 2020.
Anthony Mills, 32, Shepard Avenue, Scarborough, was also arrested and charged with three counts of possession for the purposes of trafficking and two counts of failing to comply with his release conditions.
He was held pending a bail hearing and remanded into custody until November 20, 2020.
Man brandishes knife towards police 
A 37-year-old Chatham man was arrested and charged with being in possession of a weapon for a dangerous purpose after threatening an officer with a large knife.
On Wednesday afternoon, police responded to the report of a suspicious man in the parking lot of a church on Sandys Street, Chatham.
An officer located the man walking through traffic on Grand Avenue, acting erratically and yelling at cars, causing multiple vehicles to slam on their brakes.  The officer stopped to talk to the man once he was safely on the sidewalk.  The man aggressively turned towards the officer and brandished a large butcher knife in a threatening manner.
The officer unholstered his taser and used verbal commands to deescalate the situation.  The man complied and dropped the knife.
The man spat on the cruiser several times while being searched, and has been held in custody pending a bail hearing.
Pair charged with fraud
A Chatham man and woman have been arrested and  charged with nine counts of fraud under $5000 after falsely promising puppies to resident.
In May, Corby Knight, 32, and Patricia Stuart, 32, offered six  Yorkie puppies for sale on Kijiji for $800. Nine people responded to the ad and e-transferred money to the pair as a deposit for a puppy.
In June, Knight contacted the people and told them that the puppies had been stolen.  No one received their deposit back.  In total, the duo received $3,850 from the nine victims.
They were finally arrested on Wednesday and released pending a future court date of December 16, 2020.
Man Charged with Arson   
Cory Simmons, 46 years, of no fixed address was arrested and charged with arson on Wednesday morning.
The previous evening, emergency crews responded to a dumpster fire near Riverview Gardens on King Street West, Chatham. Through  investigation, police identified Simmons and the individual responsible.
He was released pending a future court date of December 9, 2020.
Comments
comments