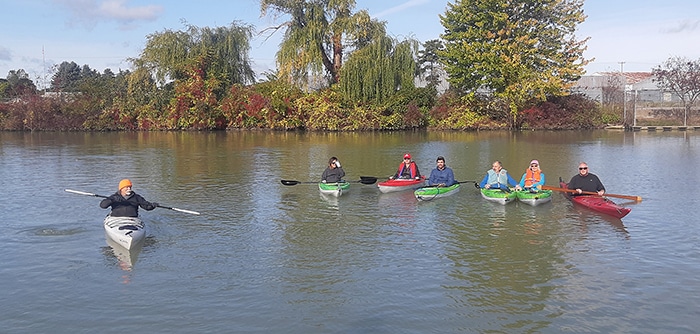 We've all heard it before. A friend, family member or passerby heard saying, "What can one person do?"
Those folks don't think a single individual has the power to make a difference. Whether it's from casting a ballot or doing a simple good deed, we're here to tell those naysayers they are wrong.
Look at Chatham-Kent resident Sally Joyce. She's taken to our waterways with her kayak and two mesh bags to try to clean up some of the trash she sees along shorelines.
Given the many kilometres of river shorelines in Chatham-Kent – from the Sydenham River, to the Thames, to the Snye – it is too much for one person.
And that's how the naysayers see it – too much for one individual.
But actions speak volumes, and others are listening.
Joyce's efforts got noticed. First by another resident, who in turn brought the woman's efforts to the attention of local media outlets, The Chatham Voice included.
And on the weekend, Joyce took to the Sydenham River, not alone, but in a flotilla of about 20 kayak enthusiasts. Together, they pulled an estimated 600 pounds of trash out of the river. (See story on page 13 for details)
To us, 600 pounds is a dent. Is the river clean? No. But it's cleaner, thanks to the initial effort of one person.
And now businesses are starting to take notice. Strong House Canada, located in Wallaceburg, plans to adopt a section of the Sydenham to make it their duty to clean up. And the company is issuing a corporate challenge to other businesses to do the same.
This is certainly a story we'll continue to follow.
And it's all thanks to the efforts of one person. The human dominoes fell into place after the story of Joyce's efforts spread, and that's awesome.
Furthermore, there's an easy way for all of us to help out. We don't need to own a kayak or a canoe. For some, it could be gathering some friends and cleaning up a section of shoreline, but for the masses, it's just a matter of not littering. Put trash and recyclables in their place, and they shouldn't end up in the river.
That's your job. One person. And you can make a difference.