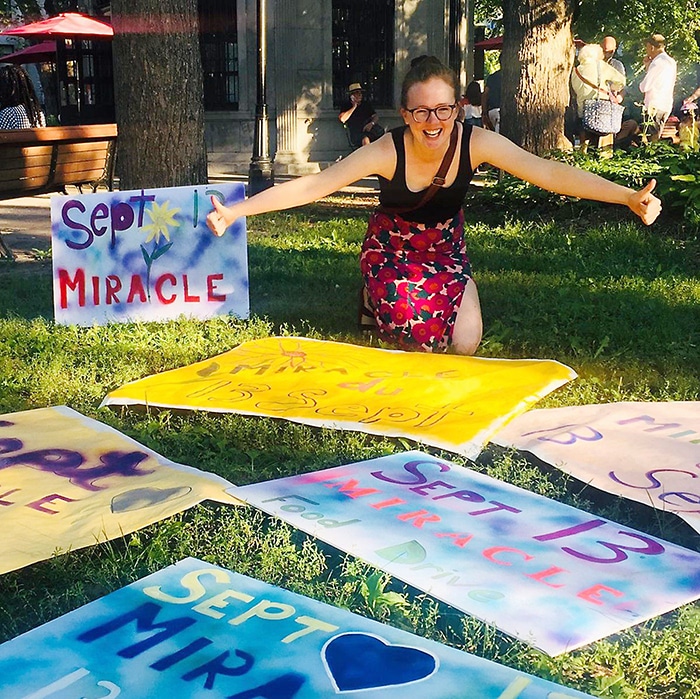 By Bird Bouchard, Local Journalism Initiative Reporter
The Ridgetown Independent
More than 675,000 pounds of food has helped inspire a local woman to give back.
Despite now living in Montreal, Gillian Aitken, formerly of Ridgetown, is still giving back to her community.
Much like the Miracle in Windsor-Essex, which broke records by collecting more than two million pounds of food, Aitken was also asking all Montrealers to take part in the city's biggest-ever food drive: the "Miracle du 13 Septembre" where she took on the role of co-organizer.
Despite Windsor-Essex setting a record, Aitken admitted she was inspired by the tremendous efforts of her hometown, which raised more than 675,000 pounds of food on May 16. According to Aitken, she's thankful for the many who helped mentor her in the Chatham-Kent area.
"This wouldn't have happened without the number of relationships I've been able to develop in the Chatham-Kent area," said Aitken. "I'm leading this project for people in this new city, co-leading this project, and it's only happening because of the wisdom and mentorship that I'm getting from my hometown."
The day of Sept. 13 saw thousands of volunteers driving around every single one of the island's boroughs, as well as Laval and communities on the South Shore, to pick up non-perishable food items left on doorsteps.
The goal was to collect enough food to stock the city's food banks and charity organizations.
The Miracle du 13 Septembre was a success. Aitken and her 2,000 volunteers were able to raise more than 55,000 pounds of food as a city. According to Aitken, the food went to more than 80 food banks and 200 individuals and families.
"This project is beautiful because it asks every single person to step up if they want to, volunteer if they want to," said Aitken. "When I started this project, it wasn't about raising food. And that really resonated with the organizing team in Chatham as well. It wasn't about raising food. It was about bringing the community together and inspiring people."
Aitken hopes the miracles in Chatham-Kent, Windsor-Essex and Montreal can help inspire the rest of Canada.
"It has been amazing for me to share an idea with Montreal that originated in Chatham-Kent," said Aitken. "Toronto might do this next. What Chatham-Kent has done has shown what a great idea it is and how it's so replicable, which I think could really spread across the country, which is very cool."