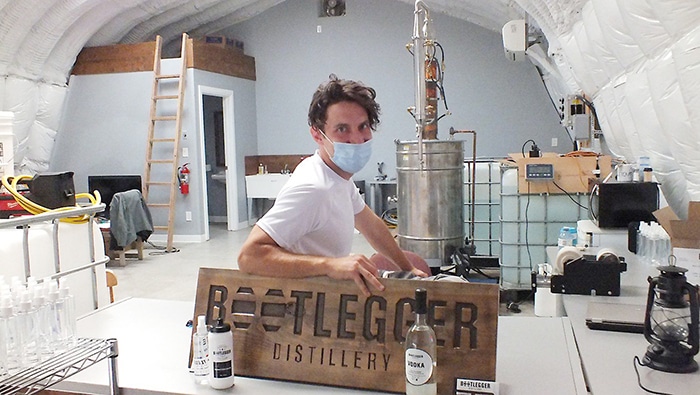 By Pam Wright, Local Journalism Initiative Reporter
The Thamesville Herald
COVID-19 has turned into a double-edged sword for Michael Brnadic.
The Bothwell resident and owner of Bootlegger Distillery had his original business plan of creating locally branded spirits wiped out by the virus.
Instead, he began making copious amounts of food-grade hand sanitizer.
The first large batch, known as Nurse No. 9 — because it was a collaboration of nine businesses and non-profit agencies — was a smash hit.
Produced to WHO specifications, it was widely distributed free of charge throughout Chatham-Kent. Approximately 1,500 litres were produced.
Now Brnadic is producing sanitizer on his own under the Bootlegger name, and it's keeping him busy.
Plus, he's back on track with his original plan of producing craft vodka and has worked out deals to distribute it as a house liquor to area bars and restaurants.
Bootlegger Vodka is now in the LCBO and Brnadic has just finished a 1,000-litre batch.
"The quality is on par with Smirnoff and Absolute," Brnadic says. "This product will stand up."
A Bootlegger gin is next on the list, Brnadic says, to be followed by white rum, even though he will have to compete with the giant Bacardi label.
A transplant from Toronto about four years ago, the 33-year-old's move to Chatham-Kent is emblematic of someone opting for small town real estate prices. He sold his condominium and closed his tax company.
He picked Bothwell while browsing the Internet and bought a house and a plot of land after only one brief visit.
Originally, Brnadic was going to open a smoked meat curing business, but the onerous regulations ruled that out.
Instead he decided to make liquor, something he learned to do as a child.
Now, with the exception of marketing assistance from Andrew Thiel in Chatham, he's a one-man show.
Brnadic says he will continue to produce both liquor and sanitizer at his Oak Street Quonset hut.
He'll continue to supply seniors and non-profits with the sanitizer at inexpensive rates and expects demand will rise if a second COVID-19 washes through.