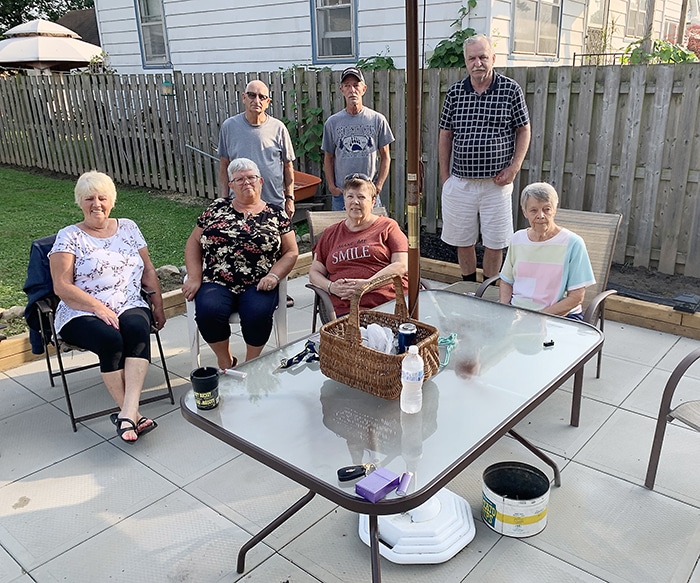 By Bruce Corcoran
The COVID-19 pandemic has taken away many elements of "normalcy" in Chatham-Kent, but in at least one case, it has helped bring people together.
At Belvedere Apartments on McNaughton Avenue East in Chatham, the pandemic ultimately contributed to a closer group of tenants, a better relationship with the landlord, and a peaceful patio area on the back of the property.
Sharon Chapple, one of the tenants, said she is part of a group of tenants that began to sit outside, socially distanced, about four months ago.
"We started sitting outside in May, usually in the afternoons. It started out with two chairs, four chairs and we stopped at five," she said.
The group began sitting around behind the building in a quiet section of the parking lot, but shifted towards a small flower garden on the southwest side of the property.
"We decided to move to a grassed area near a flower garden. There were maybe six or eight of us," she explained. "The landlord stopped by and said, 'You guys need a patio.' He said if we would supply the labour, he'd supply the material."
The landlord, Raphael Leung, said he did something similar at one of his apartment buildings in Windsor. He admits it is an added cost to a landlord, but the payoff is very much worth it.
"I just want to create a small community – everybody considering this their home," he said.
Leung said it all began at Belvedere with several of the tenants wishing to add flowers to a small garden.
"They were asking if they could grow flowers there. I told them if they promised to take care of the flowers, then I'd have no problems," he said, adding he purchased the topsoil for the garden.
"After that, I saw things growing really nicely. They were really taking care of it (the garden area)," Leung said.
When the landlord offered to pay for materials for a patio for a seating area, that's when tenant Grant Morgan, a carpenter by trade, stepped forward.
"I was a carpenter for over 30 years. I had a little bit of knowledge. This isn't my forte," he said. "So we started out and worked at it off and on for two months."
Morgan stressed it was a community effort.
"Everybody here chipped in. That's what you get from a community working together."
Morgan said others did some of the heavy work.
"People did a heck of a lot of shovelling and raking for the screenings," he said of the gravel base below the large patio stones.
Leung said he's quite pleased with the patio and garden area and does not mind the added expense.
"It is more expense for a landlord, but I was looking at it from the perspective of the tenants. What would they like?" he said. "After they built the patio, I saw how it looks nice and peaceful there. I can tell by their happy faces they are really enjoying it."
Leung said happy tenants are more invested in an apartment building and the surrounding property.
"If tenants are happy to live there, they want to stay there. Second, they look at is as their home, not a rental. They will take care of the property," he said. "I think this is a win-win situation. We're both happy."
He's also impressed by the can-do attitude of the seniors involved.
"I really appreciate my tenants. They really worked hard to build the patio and they are really taking care of things," he said. "It's great that tenants can work with the landlord and make the environment more peaceful."
Morgan is pleased with how the patio and garden looks at the moment, but thinks it will be even better next spring, as more than 200 flowers are being planted, as well as tall grasses along the nearby fence line.
"I think it should look good come spring," he said.
Leung said he's already looking to 2021 for Belvedere Apartments. He said he wants to put in a gazebo and possibly add picnic tables.
"I want to make it feel more like home," he said.
For now, Chapple said she and the others have purchased a patio table from a local thrift store and repainted it. Several patio chairs were donated as well.
"We just all pitched in," she said, enjoying the breeze in the early evening on a new patio.
Comments
comments