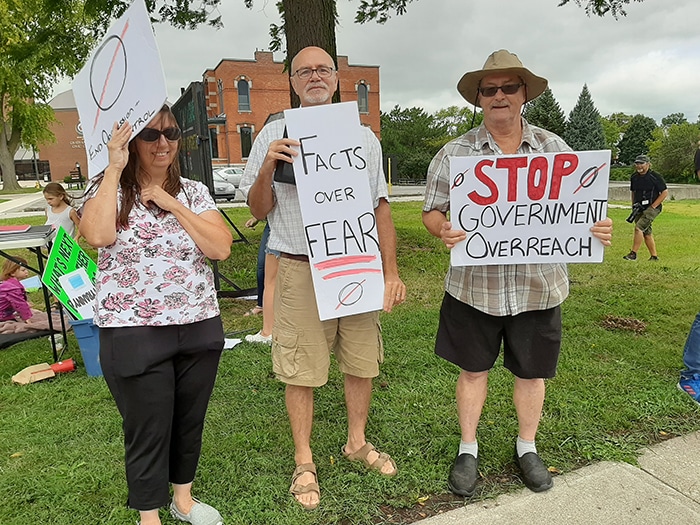 By Jenna Cocullo, Local Journalism Initiative
Chatham-Kent anti-maskers plan to protest the new mandatory masking bylaw for as long as it takes.
Over the weekend, around 30 individuals crowded both corners of King and Third streets, holding up various signs that read "end the lockdown" and "no masks; my body, my choice." 
Protesters were there for various reasons, from doubting the science behind mask protection to claiming COVID-19 is a hoax or a virus blown out of proportion by the government and media. Others believed mandatory masks are an excuse to infringe on human rights.
"We're protesting masks because there's no science behind it. The science over the last 30 years does not state a mask will save you from a virus," Sarash Dudgeon, event organizer, said. "I think this is blown out of proportion. Many more people die of the flu."
Dudgeon is also concerned that the infection numbers and death toll in Chatham-Kent (0.67 per cent of those infected) is not high enough to warrant a pandemic status.
Dr. David Colby, Chatham-Kent's medical officer of health, has said throughout the pandemic that medical masks do protect citizens from spreading the virus but to a minimal degree that does not warrant a mandatory bylaw.
Colby has maintained that social distancing and frequent hand washing/sanitizing was the best way to combat the virus.
In August, the municipal council opted to implement a mandatory masking bylaw for indoor public spaces.
Rachel Presley, another attendee at the rally, said she personally called every member of council, and all but two said they did not feel comfortable voting on a medical issue. 
The protesters are hoping council will revisit the bylaw and reverse their decision, saying it should have been left up to the medical officer of health.
Dudgeon said she cannot wear a mask for medical reasons and has been "attacked and degraded" while shopping in public places.
"And yet people aren't even wearing the masks correctly," she said.
The demonstrations will continue every Saturday afternoon and are part of a wider nation-wide movement to protest imposed COVID-19 safety measures and the lockdown.