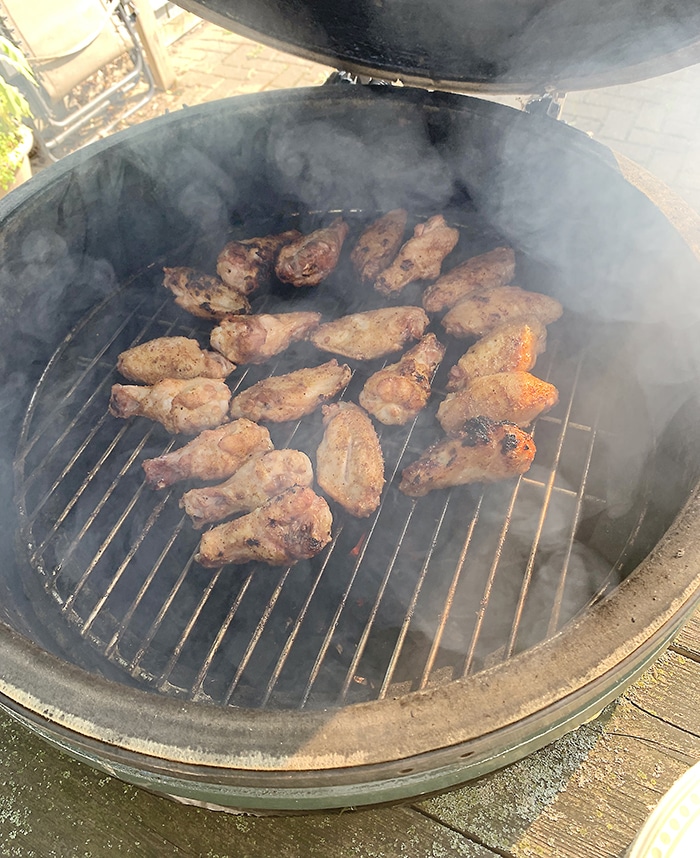 By Bruce Corcoran
This week, a column not about COVID-19 or masks, but back to the grill.
I've penned pieces in the recent past about tasty offerings from Schinkels' and such, and I would be remiss if I didn't mention the good folks at Lenovers.
I recently popped in there, as it's just around the corner from us, and went hunting for chicken wings. Last summer, I tried their fresh wings for the first time, and was addicted. They are huge!
This time around, I walked in, donned my mask and social distanced. As I approached the meat counter XX greeted me on a first-name basis, and asked what I was looking for. 
She explained they didn't have fresh wings at the moment, but pointed to one of the upright freezers that had 5 lb. bags of frozen wings of the same size. 
Sold!
Another of the nice folks at Lenovers commented that now she knew what was going on The Big Green Egg.
Mike Lenover popped out at that moment and we caught up. Such a friendly store.
I cooked the wings and some stuffed jalapenos the next day as Eggless Chad and Charlene popped by for a patio visit. 
Mary Beth had picked up the jalapenos from a local vegetable stand. They weren't huge, but they were big on flavour.
We didn't do the Atomic Buffalo Turds (bacon-wrapped stuffed jalapenos), but instead cut them in half and filled them with a cream cheese, cheddar cheese and spices mix.
Darned tasty.
As for the wings, after about 20 minutes and several turns, they were awesome. I used the Jerk seasoning I had picked up recently from Schinkels' and it didn't disappoint.
I've still got half a bag of wings in the freezer for another patio session.
As for the jalapenos, I think we will switch over to this simpler process of slice and fill, saving the ABTs for special occasions. Besides, it's healthier this way.
More jalapenos and the Auroras
Staying with the jalapenos, we enjoyed more of the same at the home of friends Pete and Arlene on Saturday, while watching the Aurora Awards.
The awards are put on by the Canadian Science Fiction & Fantasy Association. We watched the live stream of the event because Pete and Arlene's oldest son, Tyler, was nominated for one for a piece of prose he penned.
Margaret Atwood was nominated in another category. That's pretty darned cool.
I grew up absorbing sci-fi and fantasy novels. So this was pretty interesting to me.
But I had to laugh at some of the situations, as a few folks didn't put much thought into the backgrounds as they spoke from in front of their laptops. One gentleman has an exercise ball on a bed, atop what looked like a bubble wrap blanket, in the background.
Others just showed off. One was in front of his personal bar, another out by the river.
It was interesting to check out the awards, for sure.
As for the stuffed jalapenos, it is as if my wife and Arlene are of the same mind at times. It turns out Mary told Arlene about the veggie stand and the jalapenos and Arlene went right out and bought about four dozen of them.
At our house or at Arlene's, they were delicious.