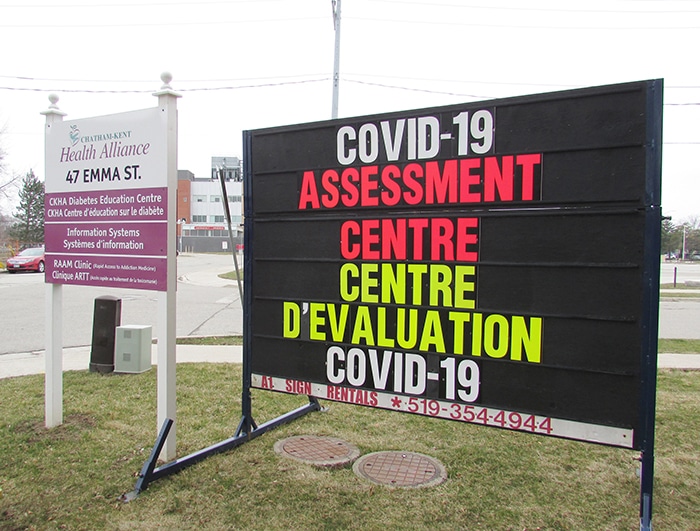 By Jenna Cocullo, Local Journalism Initiative
Chatham-Kent residents would rather be safe than sorry.
This week, staff at the Chatham-Kent COVID-19 Assessment Centre swabbed five times their typical number of residents.
"We had unexpected increases in the volumes we're seeing at our assessment centre on 47 Emma St. We went from seeing approximately 100 to 120 individuals a day for swabbing to 500 people," said Lisa Northcott, vice president, people, and chief nursing executive, CKHA.
Northcott said staff were able to respond swiftly to the rise in volume, which continues to increase daily.  
During the past two weeks, Chatham-Kent has become one the regions to have the highest infection rate per capita in Ontario. 
According to some individuals getting tested on Thursday afternoon, the recent surge isn't what has them running to the assessment centre, but they remain concerned about the trend and lack of mandatory masks.
Chatham-Kent resident Melissa Thibault-Brown was at the centre getting tested because she developed a cough after a recent visit to the hospital.
She said even if she tests negative, the surge of cases remains a concern, and she hopes more will be done to protect the public.
"Yes for sure I want masks to be mandatory and to know where the cases are coming from," she said. "I have a daughter. I don't want to go somewhere (with COVID) and to get sick and end up in the hospital."
Susan Coristine said she was getting tested just as a reassurance before she visited her parents indoors in a long-term care facility. 
While waiting in line, she told The Chatham Voice that she would like to see masks mandatory throughout the municipality.
Corisitine, who is a teacher, said her school Ursuline College The Pines, "collects" students from across Chatham-Kent and is worried that students living in communities with higher COVID infections could spread the virus.
"I'm a teacher; going back to school is concerning with this model (low-risk secondary schools opening fully)," she said.
The majority of individuals going to the assessment centre are not showing any symptoms. Rather they have been in contact with someone who has been in contact with someone else.
"I am a little bit concerned about the new cases. I think Chatham-Kent should be more careful because things are very relaxed around here," said one resident getting tested who did not divulge her name to protect the identity of her positive COVID-19 contact.
Only one individual in the lineup of about two-dozen people was unconcerned about COVID-19. The gentleman, who decided not to disclose his name or workplace, said he had to get tested for work, which requires him to travel across borders.
To date, 16,258 people have been tested in Chatham-Kent.
At a press briefing on Thursday, Chatham-Kent's medical officer of health Dr. David Colby said the more people tested the better because more positive tests are being found.
"And when we increase our testing volume five-fold, is it any wonder that we're finding more cases that are out there? This fact cannot be lost; that part of the fact that we're increasing our numbers is not necessarily that the train is going off the rails. We're being better at finding what's out there and getting a full picture of what's happening, and we can't lose sight of that," he said.