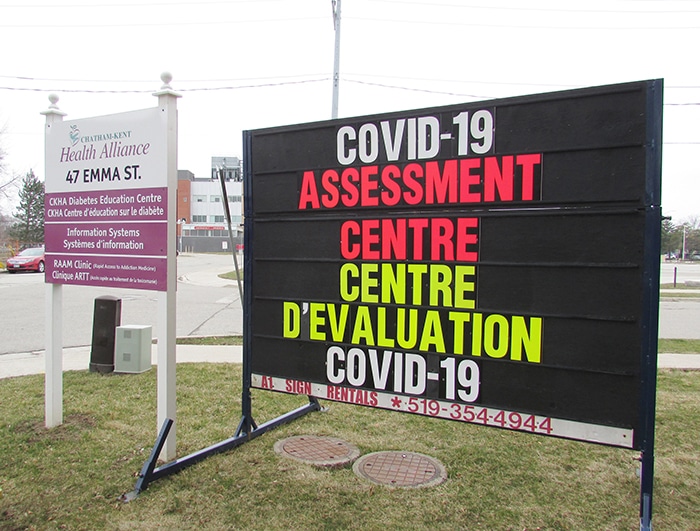 With the help of Chatham-Kent EMS, the Chatham-Kent Health Alliance (CKHA) is ramping up testing at its COVID-19 Assessment Centre.
The centre, located at 47 Emma St. in Chatham, will offer additional testing for walk-in patients in response to increases in both demand for testing and positive COVID-19 cases in the community. 
This testing will take place outdoors on the west side of the building (facing Ursuline Avenue). 
Those seeking testing are strongly encouraged to book an appointment, but walk-ins are accepted. 
Due to increases in volume, waiting times will vary, according to hospital officials.
At this time, to manage traffic flow, whenever possible, patients are asked to be dropped off outside the building. 
For those without mobility issues, CKHA staff ask that you use CKHA's other available patient/visitor lots (Lot C, Lot D, Pegley Lot) when possible. 
Free parking remains available at the 47 Emma lot, however. 
There is also municipal parking available on and around the property.
CKHA's COVID-19 Assessment Centre accepts patient self-referrals from anyone who suspects they are displaying symptoms of the virus or who have been in contact or exposed to a known COVID-19 positive case. 
For anyone wanting to book an appointment, you can do so online through www.assessmentbooking.ca. Before booking an appointment, please make sure you have a valid "green" Ontario health card. 
Patients who have a "red and white" Ontario health card, or those who do not have access to technology can book an appointment by calling CKHA's registration desk at 519-352-6400 ext. 6548 between the hours of 9 a.m. to 5 p.m., Monday to Friday. After hours and on weekends, patients can call CKHA's switchboard at 519-352-6400 ext. 6584.
If you have questions about COVID-19, visit CK Public Health's website at http://www.ckpublichealth.com/covid19, call CK Public Health's COVID-19 intake line at 519-355-1071 ext. 1900 or e-mail covid19@chatham-kent.ca.
Comments
comments