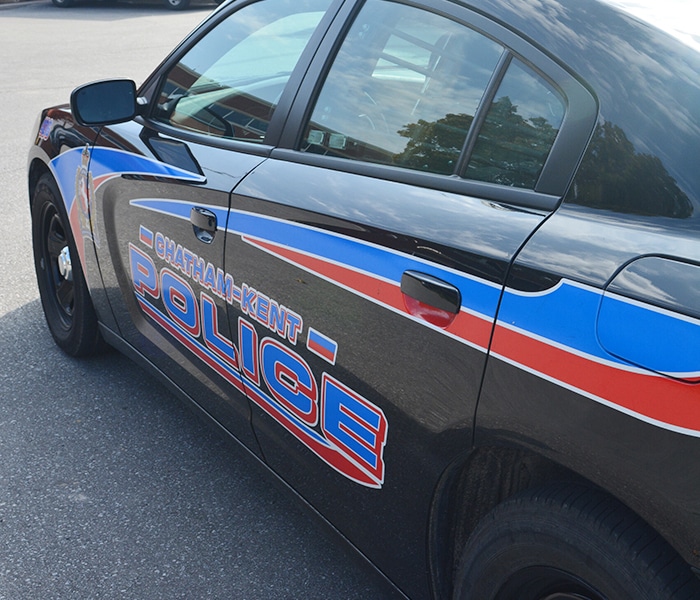 Drug charges 
Last weekend, a resident in Chatham had his wallet stolen from his home. 
Through investigation, Chatham-Kent police learned that his stolen bank card was used to buy groceries. With the assistance of video surveillance, the man believed responsible was identified. 
Last night, police located the man and he was arrested. Upon being searched incident to arrest, police say the man was found to be in possession of suspected fentanyl. Police also learned that the man was currently bound by conditions not to attend the property where he was found and not to possess any drugs.
A 35-year-old Chatham man has been charged with theft under $5,000, being in possession of property obtained under $5,000, drug possession and two counts of failing to comply with his release conditions. 
Punched, and arrested
Last night, around midnight, police responded to a disturbance on Grand Avenue in Chatham between a man and woman, known to each other.
Through investigation, police learned that a verbal argument escalated into a physical altercation, resulting in the man punching the woman in the face. 
The man fled prior to police arrival, however, he was located a short time later. 
A 22-year-old Chatham man was charged with assault.  
The victim, a 19-year-old Chatham woman, was also arrested for failing to comply with her curfew condition. 
Teen girl charged with assault 
Last night, police responded to a family dispute in the Thamesville area.
Through investigation, police learned that a youth in the home assaulted a family member.
A 14-year-old girl was arrested and charged with assault. She was released to a family member in London and will be required to attend court on Sept. 14.
ATV safety concern
Shortly after 9 p.m. last night, police responded to the report of two ATVs driving erratically in Wallaceburg.
Officers located the ATVs on Bridle Path Road and a traffic stop was initiated.
A 17-year-old girl and 39-year-old man, both of Wallaceburg, were charged with driving with no license plates. 
For more ATV safety tips, please see https://ckpolice.com/atv-information-2/
Collision
Last night, police responded to a two-vehicle collision on Park Avenue East between Lisgar Street and Peter Street in Chatham.
A 31-year-old man was taken to hospital with non-life-threatening injuries.
A 25-year-old man was charged with failing to yield from a private driveway. 
Total damage was estimated at $6,000. 
Watch for wildlife
Around 11 p.m. last night, police responded to a collision involving a deer on Pine Line near Bear Line Road. 
The driver was not physically injured. Total damage was estimated at $6,000. 
With the harvesting of wheat in full swing, drivers are reminded to be more vigilant on our roads, especially during dusk and dawn, which is when most collisions with deer occur.
Being aware and taking precautions can reduce collisions, save lives and protect wildlife:
– Scan the road ahead from shoulder to shoulder for any movement. 
– Use high beams at night, when possible, and watch for the glowing eyes of animals.
– If an animal is crossing the road, stop as safely as possible, in your lane. 
– Remember, if one animal crosses the road, others may follow.
– Never swerve suddenly. This may cause you to lose control of your vehicle, resulting in a more serious collision.
For more information on how to reduce your chances of hitting an animal, see
http://www.mto.gov.on.ca/english/dandv/driver/handbook//section2.10.7.shtml