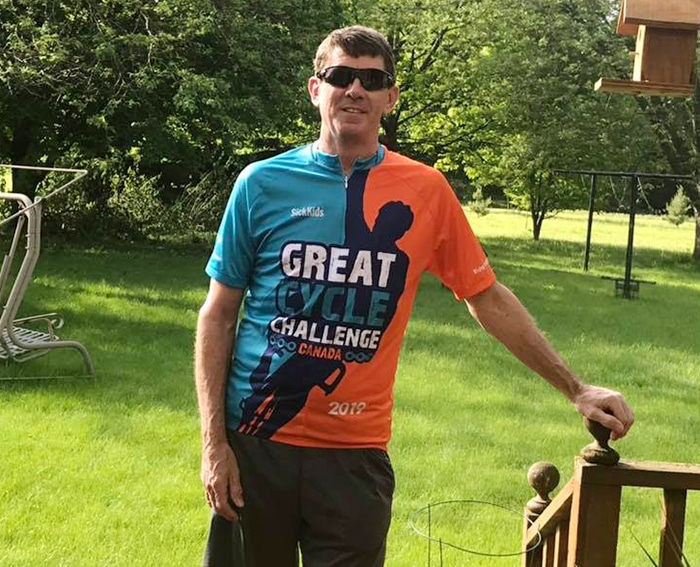 Mike Poulin, a resident of Chatham-Kent, is planning to ride 1,000 kilometres and raise $2,500 during the month of August for The Hospital for Sick Children in support of its fifth annual Great Cycle Challenge Canada.
Founded in 2016, Great Cycle Challenge Canada has grown to become one of the biggest cycling events in the country. In just three years, more than 63,000 riders from all provinces and territories have ridden 10.3 million kilometres, raising more than $12.4 million for research, care and the development of better treatments and cures for childhood cancer. 
This year, SickKids Foundation hopes more than 30,000 riders will take part to support of kids' cancer.
"This is the third time I have participated in Great Cycle Challenge," Poulin said in a media release. "During those years, I rode 1,865 kilometres and raised $3,861."
"Cancer is the largest killer of Canadian children from disease and over 1,400 Canadian children are diagnosed with cancer every year," said Jamie Lamont, Director of Special Events at SickKids Foundation. "Thanks to riders like Mikey12110, we're fueling groundbreaking research to save lives and give kids the brighter future they deserve."
To learn more about Poulin's Great Cycle Challenge Canada and to make a donation, please visit greatcyclechallenge.ca/Riders/Mikey12110Poulin. 
To participate in Great Cycle Challenge Canada, visit GreatCycleChallenge.ca.