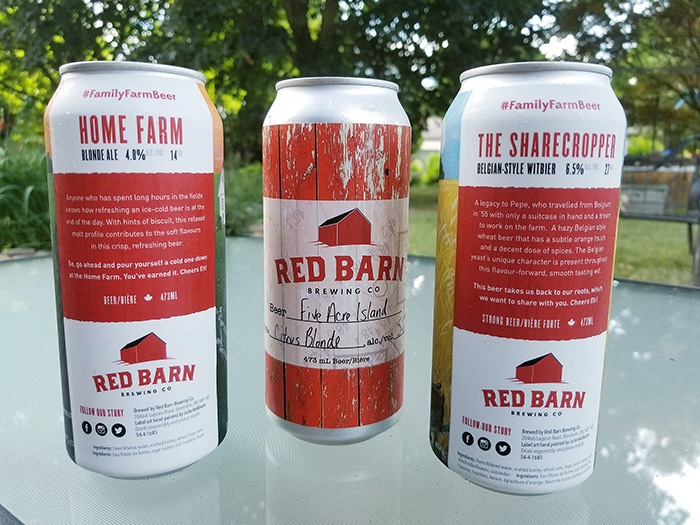 OK, when a new local craft brewery opens in Chatham-Kent, you know I have a big interest.
Hey, I support #buylocalshoplocal and #ShopCK, and I happen to enjoy beer.
Plus after chatting with two of the owners, Denny and Sandy Vervaet, a couple of weeks back, I saw the passion they had for their Red Barn Brewing Co.
They gave me a great tour of their facilities and we talked beer for about an hour.
I knew I had to try some of the beers they were brewing for opening day, Canada Day.
So on July 1, what better way to celebrate Canada's birthday than to support the birth of a new local brewery? Mary Beth and I popped by about 2 p.m. and were greeted by friendly folks, and a long lineup of thirsty patrons.
Being COVID season, everyone practised safe distancing in the lineup, staying six feet apart, and we all went in, purchased our beer, and left.
When Mary and I got into the coolness of the brewery, we scooped up a couple of six packs of Red Barn offerings.
Their mixer six pack had two each of their Sharecropper Belgian Wit (Wheat), Home Farm Blonde Ale, and Five Acre Island Citrus Blonde.
We departed there and headed directly to the backyard of friends Pete and Arlene, to sample some new brews by the pool.
I admit I had a sneak peek taste of the Sharecropper and Five Acre Island as they were in the late stages of brewing, and I was intrigued.
The finished products were even better.
Five Acre Island is a lemon-lime infused beer. On a hot day, just like what we are "enjoying" this week, I could see really taking to this offering. Nice, fresh taste.
My wife and Arlene really liked this one, to the point I was left wanting more. Oh well, I know where it's made!
Pete also enjoyed this beer.
Next up, the Belgian Wit. I will preface this with the fact I am not a big fan of wheat beer in the first place. And when I tasted this, I didn't mind it. It has some serious citrus tones as well, but the spices eventually overtook my tastebuds.
Mary, however, thought if you serve this well chilled, with a slice of orange, it would be just plain awesome. Arlene concurred.
Pete was in my corner.
Onto the beer that was sure to be the least offensive: the blonde. Home Farm delivered. It's a classic taste, and offers a bit more life on the tastebuds than many other blonde ales out there. Pete and I really enjoyed it (again, it was a hot day, so something nice and smooth went down well).
Mary and Arlene also liked it, but both gravitated to the first two offerings.
In no time, we'd killed a six pack doing a taste test and working to keep hydrated.
We all agreed that Red Barn was onto something.
I can't wait to try their Harwich Moon, a chocolate porter, which should be awesome in the cooler weather of the fall.
Red Barn also brewed a batch of Session IPA, but it was only available in growlers (glass jugs) and basically once you open one, you should drink it in short order. We weren't sure we wanted to get tied to that amount of beverage, although I do enjoy a variety of IPAs, for sure.
I took a can of Home Farm over to Eggless Chad recently, and he really liked it. This is a dude who rarely deviated from Bud Lite, but now probably has a more diverse taste in beer than I have.
I should have brought a Sharecropper too, but instead sneaked a Flywheel Blonde from Sons of Kent into my cooler bag.
While there, one of his neighbours stopped by. Don put an Orchard Cherry Lager from Bayside Brewing Co. in front of me. I'm generally not a huge fan of fruit-infused beer, but this is one of my favourites.
So now we have three craft breweries in Chatham Kent. Beverage options range from low-alcohol, low IBU (International Bitterness Units: a higher number means it's more bitter), to strong alcohol, high IBU beers. There really is something for everyone's palate. Talk to the owners, discuss what your likes and dislikes are, and I'm sure you will latch onto some local nectar of the gods that is just right for you (of course, you must be of legal drinking age).
And when COVID restrictions eventually end or are diminished and all these places are again open for visits, order a flight of beer to sample a variety of what is offered.
Comments
comments