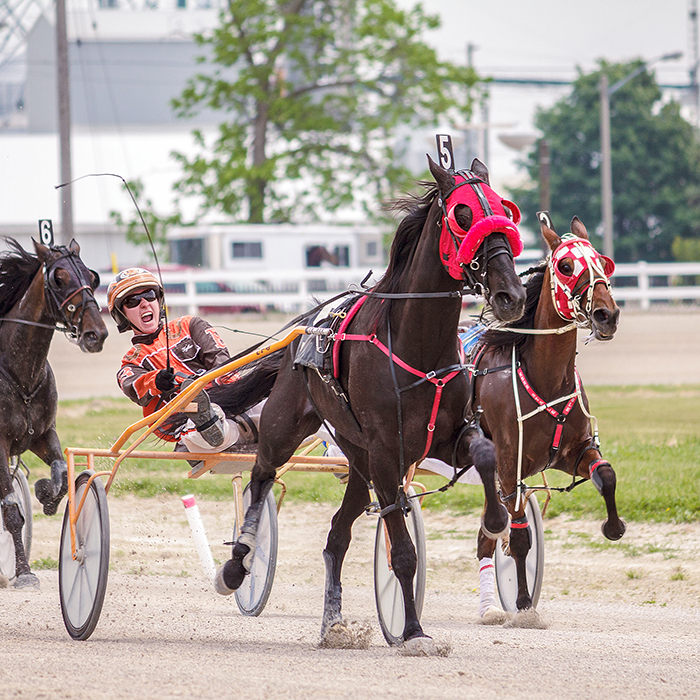 The final of the Mark Austin Pacing Series in two weeks promises to be one for the ages as five divisions will go post ward this Sunday afternoon at Dresden Raceway.
The Mark Austin Pacing series, in memory of trainer Mark Austin who got his start at Dresden and passed away suddenly in 2014, is for maiden pacers who are non- winners of one race or $5,000 (F&M $6,000) lifetime, as of April 15.
Acefortyfour Dome is the favourite in the first division for driver Nick Boyd. The three-year-old Up the Credit filly is co-owned by Michael Timpano and Colin Burrows while Don Johnson is the trainer. She has won her last two starts at Georgian Downs with times of 1:56.3 and 1:55.3 respectively.
The second division has Coin Flip programmed as the even money favourite for the combination of owner Amy Hardy, trainer Jack Wray and driver Scott Wray. The three-year-old Royal Mattjesty colt has won back-to-back races at Hiawatha in times of 1:59.2 and 1:57.2.
Michael Timpano and Colin Burrows are the owners of another favourite, Acefortyfour River in the third division, a half sister to Acefortyfour Dome in the first. The three-year-old Up the Credit filly is trained by Don Johnson and driven by Nick Boyd and has won two of her last three starts including a wire to wire win at Grand River in 1:57.4.
The fourth division is headlined by even money morning line favourite Dreaming Out Loud with Tyler Borth at the controls. The three-year-old Thinking Out Loud colt has won three in a row at Dresden including an OSS Prospect Series win over Dresden in 1:57.1. Dreaming Out Loud is owned by Chris Cain and Keith Cullen while Cullen does the conditioning.
Dresden's leading dash driver Borth is also between the shafts for the 1-1 morning line favourite of the fifth division, Frownies Miracle. The three-year-old Warrawee Needy gelding has won his last two starts with times of 1:58 at Grand River and 1:59.1 at Hanover. Bill Brown is the owner while Kyle Bossence is the trainer.
"This is going to be a real good series," said Race Secretary Ian Fleming. "There are a lot of very good racehorses entered. I think the final will be a great race."
You can catch the races on the Dresden Raceway YouTube Channel, Facebook page or website which is www.dresdenraceway.ca and wager on the races HPI, Twin Spires, TVG and Xpressbet. Post time this Sunday is 1 p.m.
Comments
comments