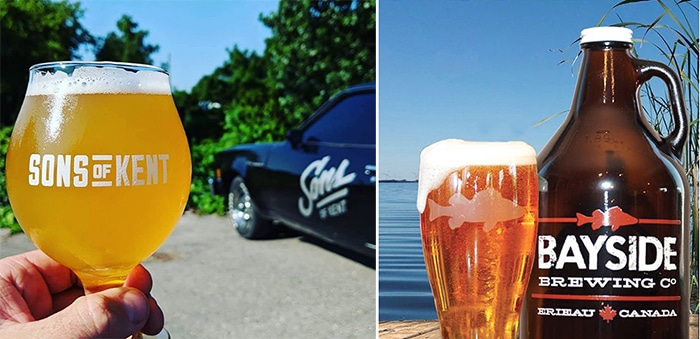 How C-K's main craft breweries are surviving the pandemic
By Bruce Corcoran
Stopping at Sons of Kent on the way home after a busy workday is not an option these days. Neither is enjoying a sunny afternoon on the patio at Bayside Brew Pub.
But both local craft breweries are adapting to the realities of COVID-19 and its resulting government-imposed restrictions to stay in business.
According to craft brewing industry insiders, up to a third of the nation's craft brewers won't survive the coronavirus pandemic. This despite the number of Canadians turning to alcohol as a crutch to get them through the stresses of COVID-19.
But C-K's biggest craft brewers are cautiously optimistic they will survive, despite the downturn in business, especially inside their own facilities.
At Bayside Brewing Co., the pub is one aspect of the business. And the summer is where that Erieau go-to restaurant really takes off. Its wraparound patio is regularly filled with people during the warmer months, taking in the flavours of the beer and the food, and the relaxing view over Rondeau Bay.
Early May is normally a time of preparation for the patios, and planning for the summer.
Nancy Cowan, one of the owners of Bayside, brewers of craft beer since 2013, said that's all up in the air at the moment, and the inside restaurant remains closed to the public.
However, food is still being cooked and the beer continues to head out the door.
"It's very quiet. We continue to do what we can. We're doing takeout orders at the pub and limited delivery for those who can't get out," Cowan said. "Beer is continuing to move a bit. But the distribution is a bit different."
People can order from the company's website at https://baysidebrewing.com/, or find Bayside's signature Long Pond Lager and selection of other brews at the LCBO or the Beer Store.
Doug Hunter and Colin Chrysler, two of the four principles behind Sons of Kent, which opened in Chatham three years ago, said the effort underway is to "maintain."
"We're able to keep some people employed. We're not anywhere we want to be," Hunter said. "But we're probably middle of the (craft brewery) pack. We've got the ability to make a lot of beer."
But their focus point was their tap room, where residents could pop in for a glass of their favourite beverage or grab a six-pack of their preferred pilsner. Plus all events hosted at Sons of Kent are on hold, including a number of regular charitable fundraisers.
"A lot of our business was in our tap room, and we pride ourselves in being a community hub," Chrysler said. "We had live music booked every weekend, as well as birthday parties, business meetings and art events that have all been postponed our cancelled. As being a part of the community, it's hard to see an empty tap room every day, but we understand that in time we will be able to re-open in the future and be able to bring back local bands and events."
Hunter said the brewery has enjoyed solid sales in the LCBO, the Beer Store and in grocery stores where available prior to the COVID-19 pandemic, and that connection has kept the beer flowing in one manner to the public.
"With all of those stores remaining open, we are still able to deliver and distribute beer through those channels, which has kept the beer moving," he said.
Hunter added the brewery offers curbside pickup, which instantly became popular.
"We have had a lot of community support which has been great and has totally blown away our expectations. We are actually much busier than we would have anticipated through our curbside service as well as our retailers selling our beer, but unfortunately not as busy as before the pandemic hit," he said.
Cowan said the sales from the traditional retail outlets is also crucial to Bayside these days.
"On the brewery side, the production and LCBO is sustaining. We continue to produce," she said. "We are also utilizing the product we already had made for now."
Cowan said current production is restricted, however as she and her business partners don't want to see a COVID-19 breakout at their facility.
On the pub side, Cowan said April sales were down 95 per cent compared to the same month last year. It's a grim reality with the doors closed to everything but takeout and some delivery.
She said the support from the community has been incredible, however.
"Local support has been tremendous. People are buying local and getting takeout packages of food," she said. "It's great, and we thank the community for supporting us."
As for when the restrictions start to lift, Cowan said Bayside has to be ready, but safe.
"We're looking for ways to work within the current framework to keep our people working and doing it safely. We're working to anticipate what might happen as things open up," she said. "Can we put things in place to do that?"
Chrysler said while Sons of Kent should be fine through the pandemic, the potential permanent closure of restaurants could have a lingering impact on the brewery as there are more than 150 restaurants in Southwestern Ontario that had Sons of Kent beverages on tap prior to the pandemic.
"The restaurant industry is a huge portion of our business, but these establishments are an even more important part of our community. As much of a challenge as it is for us, it's an even bigger one for restaurants, and they need all the support we can give them," he said
In true Sons of Kent fashion, Hunter said the brewery will soon release a fundraising beer, All Together. Part of the proceeds from the new brew will help support the restaurant industry.
"It is a global collaborative effort created by Other Half Brewery in New York, and over 600 breweries across the world are joining forces to brew a beer to support the industry that is so vital to craft breweries," he said. "All participating breweries are making a similar recipe that is an IPA with portions of the proceeds of each beer sold supporting businesses and people in the industry, including our own bar staff that have been temporarily laid off."