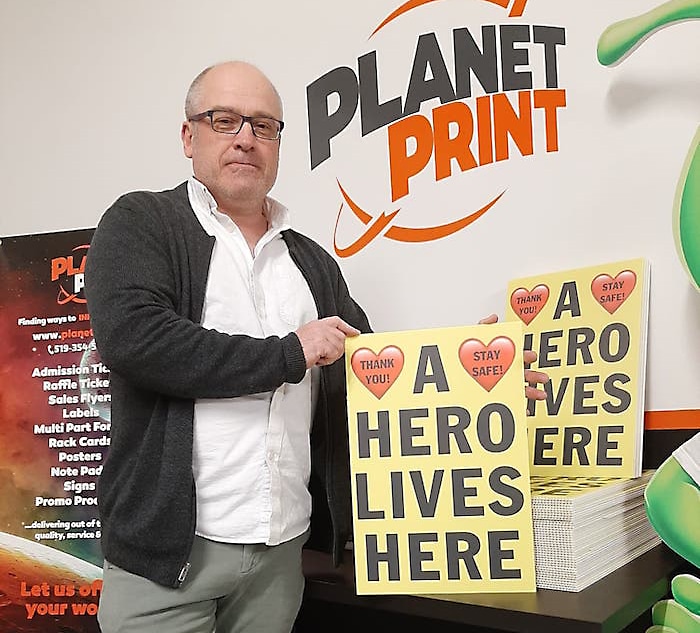 Jenna Cocullo, Local Journalism Initiative
Not all heroes wear capes. Some wear scrubs, first responder uniforms or food aprons.
Rick Gardiner, owner of Planet Print, has been quietly making signs to thank all forms of heroes and frontline workers stepping up during the COVID-19 pandemic.
Yellow signs that read "A HERO LIVES HERE" surprise heroes on their front lawns when home from a long day of work.
Gardiner is hoping to do his part to lift their spirits.
He was first inspired by local artists putting their talent to good use as they decorated the town or donated their drawings to people in need of a brighter day. He then stumbled upon what the Authiers, his fellow printing comrades, were doing in Tilbury just as Chatham-Kent good samaritan Alysson Storey approached him asking to make a sign for the staff and residents at Riverview Garden.
"It's remarkable and I would have never thought of this, but we never had one case of COVID at our senior homes in Chatham-Kent," Gardiner said. "So she wanted to do something to recognize them."
READ MORE: The Authiers are printing up love
After the initial sign, around 225 more were made to surprise heroes with.
The first batch was paid from Planet Print's savings account for charitable community causes. Gardiner underestimated the popularity and demand. One sign costs around $3.25, so once they ran out he could not continue to give hundreds away for free.
Like every other non-essential workplace during COVID-19, Planet Print has seen a decline in business, causing Gardiner to lose almost 60 per cent of his revenue.
Gardiner set up a Go Fund Me page where people can donate if they wanted to make a sign for a hero they knew.
To date he has raised $460 for the initiative.
Gardiner said anyone can pick up a sign for free or he can happily drop it off at a hero's house in the Chatham-proper area.
"A hero is everyday people who are stepping up and going above and beyond what's expected of their roles, their duties, and just caring about people while staying positive," Gardiner said.
So by that definition, Gardiner is a Chatham-Kent hero too.
READ MORE: 'One can, one doorstep, May 16'