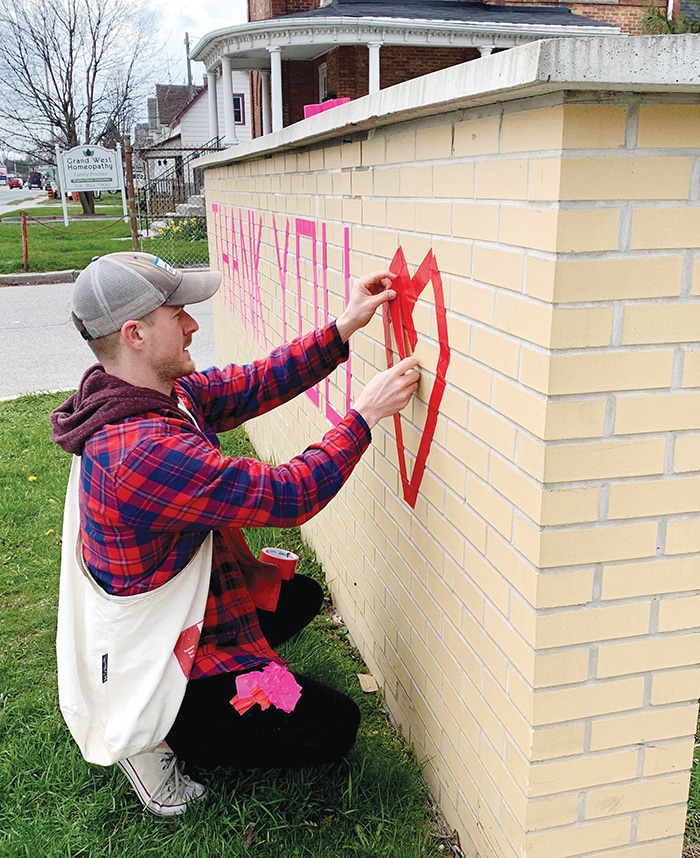 Local artist continues to expand his duct tape messages
By Bruce Corcoran
One man, one simple yet colourful medium, and one mission: support Chatham-Kent.
For nearly two months, local artist Mark Reinhart has been putting up messages of support for the citizens of Chatham-Kent, especially front-line health-care workers, during the COVID-19 pandemic.
Reinhart's medium? Duct tape.
He uses various colours of the durable tape to print messages in large, vibrant block letters supporting the people of C-K.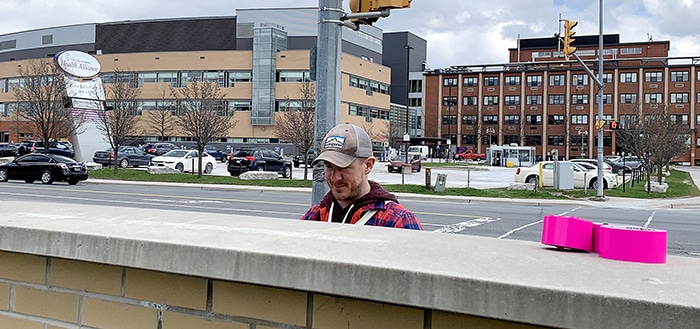 Reinhart said the idea came together back in mid-March.
"A friend of mine who works in Public Health, we put our heads together to come up with an idea to help motivate people to be physically apart, but at the same time try to help everyone be together during this," he said.
They spawned the hashtag "#beapartstaytogetherck" for starters. But ideas kept flowing, and Reinhart shifted from virtual to actual, and began using duct tape of a variety of colours to deliver positive messages across public buildings.
"In a former life, I was a duct-tape graffiti artist," he said.
The first message, the aforementioned hashtag, went up on the river-facing side of the Civic Centre in Chatham in late March.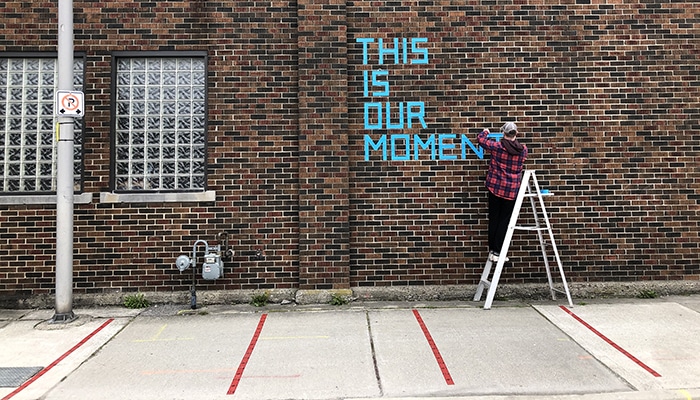 From there, Reinhart has "tagged" schools, libraries ("Books Bind Us Together"), homes, businesses, office buildings, and hospitals ("Can't Keep Heroes Away").
The effort has taken him all over Chatham-Kent.
"It's a public art project. It's starting to gain some running legs. It has sprinted out to Wheatley, been to Blenheim, and will be coming up in Wallaceburg and we will be out in Bothwell," he said. "It has grown; it's been great."
Reinhart, the outreach co-ordinator for arts and culture for the municipality, sees the need to spread the positive messages. And he said they are well received.
Mayor Darrin Canniff agrees.
"I love it. I've been working with Mark since I've been in here. He's a creative genius. What a way to release him into the community," he said. "With or without COVID, we need more stuff like that. We need those little pick-me-ups. You see those, they're very inexpensive, but they stand out and brighten the community."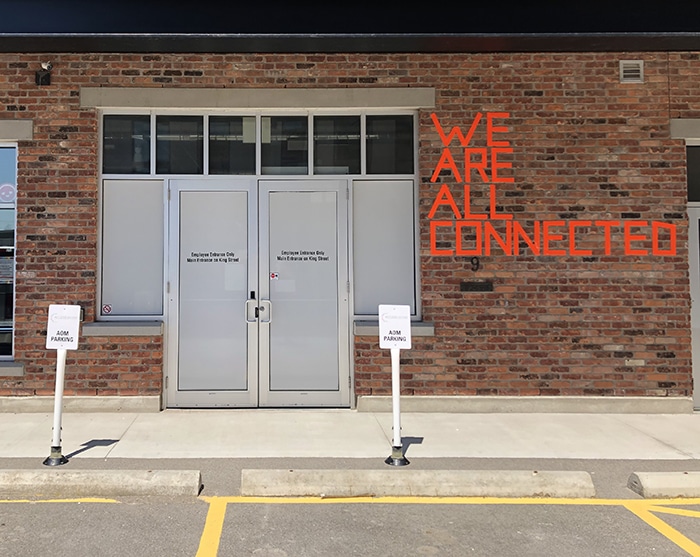 Reinhart said it may be simple, but it is art.
"We've been stripped back to our primal ways to some extent right now," he said. "Art can be a painting on a wall, but it can be about something far richer and far more networked into the community."
The artist added he believed the community has noticed these days that arts are helping to make sense of today's reality and "they have a strategic role to play in reinforcing our built environment."
Reinhart admits it is a little different than traditional art, but it also contains more direct messages.
"This is a little outside the box, or maybe explodes the box altogether," he said. "When you think about an art environment, anything is possible in the art world. It can be a tool to help us mitigate some of that anxiety and instability we are feeling. We talk about the physical side of what is going on with this virus, but we have to talk about what we need to do to help each other out mentally."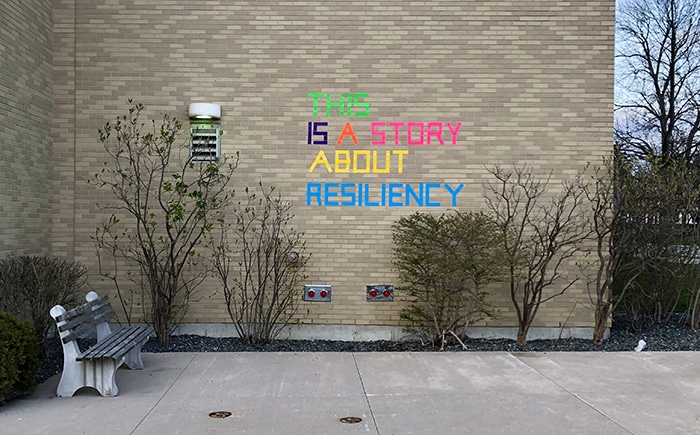 He creates his messages with that in mind, and with collaboration.
"Now, every time I work with a building, an organization or a private residence, I have a conversation with the folks involved and we come up with a phrase that makes sense, for the community and the building," he said.
"They're meant to be inspirational phrases, but they are also meant to be phrases that are reflective of the times right now," he continued. "I did one recently on the McGregor high school (JMSS) wall. I have a nephew in Grade 12. I had been chatting with him about not being able to be with friends. We came up with the phrase, 'I Know…I Miss You Too.'"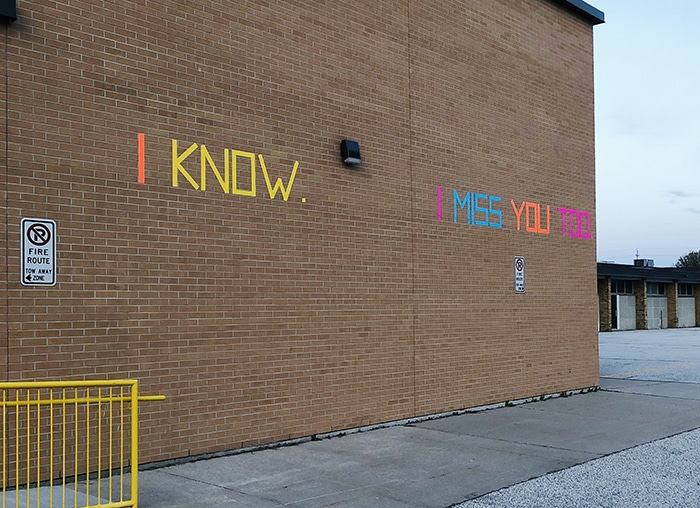 Reinhart initially responded to his urge to "go out and start infusing some colour into the community." That effort has reached most corners of the municipality already.
And although it appears the COVID curve has been flattened locally, with just six active cases as of Monday, he knows the need for the messages will continue for some time.
"This is not a straight path. We'll have to navigate around things," he said, and offers encouragement for others to take part as well. "Find interesting ways to be with your family and try to chase resiliency."