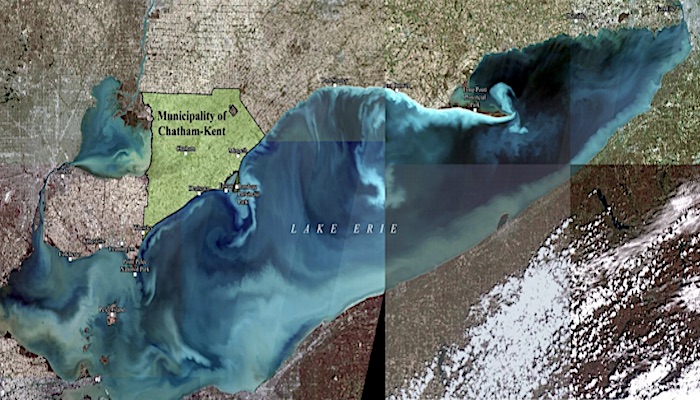 Jenna Cocullo, Local Journalism Initiative
The municipality of Chatham-Kent could be facing costs up to $217.2 million as they adapt to the increased flood risks and land erosion.
The long-awaited Chatham-Kent Lake Erie Shoreline Study prepared by Zuzek Inc. was released on Friday evening detailing anticipated risks and coastal hazards due to climate change.
The area of assessment included the coastal zone from Wheatley to the eastern municipal boundary near Clearville, including Rondeau Bay.
The study was led by the municipality with support from the Lower Thames Valley Conservation Authority. The study was completed by Zuzek Inc. in partnership with Linda Mortsch, a senior researcher at the University of Waterloo.
The report predicts that Lake Erie could be ice free by late-century as temperatures are forecasted to rise by five to seven degrees Celsius.  Ice-free winters are expected to increase wave energy reaching the shoreline by 70-80 per cent causing higher erosion rates and frequent flooding.
"The ice-free winter of 2019/2020, when storms impacted the coastal zone all winter is a prelude to the future," the report reads. 
The area requiring immediate attention is Erie Shore Drive. If not addressed, the municipality is at risk of losing access to the Village of Erieau, flooding nearby agricultural lands, and losing up to 141 buildings.
It is proposed to spend between $59.2 to $84.4 million implementing shoreline protection including a retaining wall, building flood proofing, upgraded septic systems along with road and dike repairs. 
The cheaper option would be to buy out homes, estimated at $20 million, and upgrade the dike enough to protect the nearby agricultural lands, costing an additional $22.5-31.7 million.
The report also recommends immediate action regarding the restoration of the Rondeau barrier beach, costing up to $15.2 million. If not addressed, the navigation channel, commercial fishing fleet and communities of Rondeau Bay are at risk of increased flooding. 
A 5.9 km stretch of Talbot Trail is at risk of erosion, jeopardizing 439 buildings. The Zuzek report recommends re-aligning a 30 km stretch of the trail in land and relocating buildings as needed. The highest cost estimated is $96.6 million.
Mayor Darrin Canniff and various councillors representing the areas along the shoreline said they have not yet had a chance to go through the 175 page report, which was released Friday evening, and will provide comment in the following days.