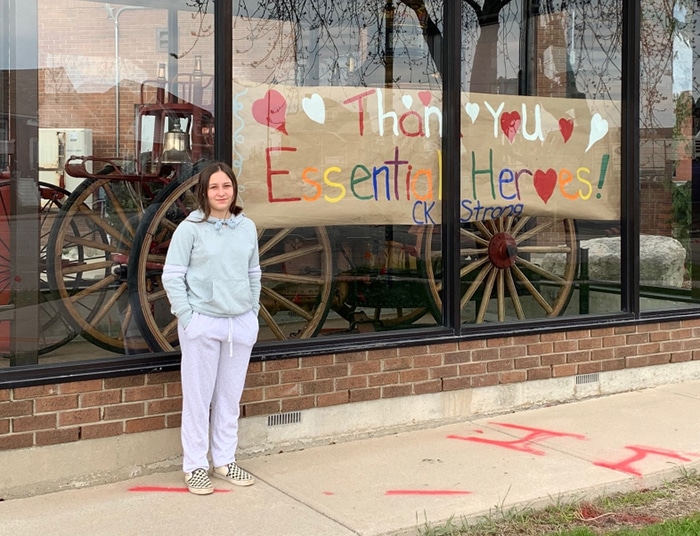 By Bruce Corcoran
Chatham's Amelia Browning is doing what she can to spread smiles during the COVID-19 pandemic.
For the 13-year-old Tecumseh Public School Student, that includes showing appreciation to family members, and to thank essential workers.
Amelia is doing it all through a little anxiety of her own, as her mother, Lisa, works at Community Living Wallaceburg, where 13 people, including nine employees, have tested positive for COVID-19, and Lisa's boyfriend, Rob, works for a courier company and risks exposure, going door-to-door delivering essential items.
Lisa said she was tested late last week, and was told to isolate until she got her results back. Amelia was already on the job, hoping to bring a smile to her mother's face.
"She planned an Easter Egg hunt in my bedroom after I was told I had to isolate for two days," Lisa said of Amelia.
"I just wanted her to be happy," Amelia said of her mother.
Fortunately for the Brownings, Lisa's tests came back negative.
To show her support outside the home, Amelia created a huge sign, saying "Thank you, Essential Heroes! CK Strong" and had it placed outside Chatham-Kent Fire Station 1 in Chatham.
"I chose to the fire hall to put the sign up because my grandpa Jim Brodie was a firefighter and my father, Denny Browning, was a volunteer firefighter. I also have quite a few uncles that are firefighters as well," Amelia said. "I just wanted to show that we appreciate all the essential workers."
Over the past month, Amelia has taken her support campaign out of her house. She's sent out care packages for family members who are self-isolating, for starters. The boxes have included blankets, toilet paper, hand sanitizer and food.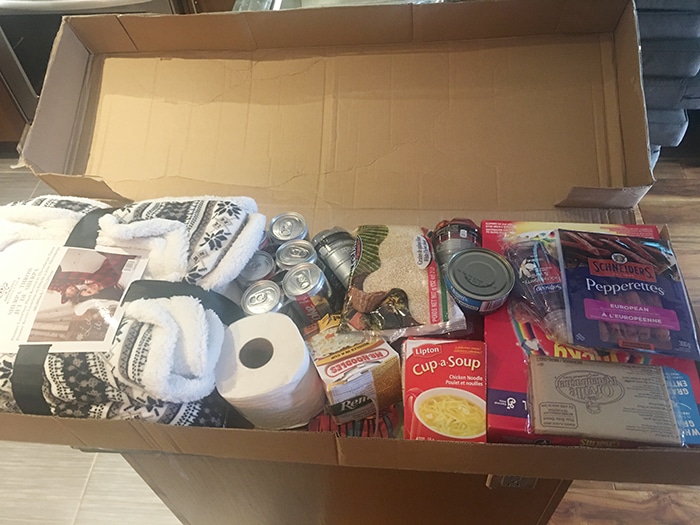 Amelia also visited a great aunt, but kept her distance. They played tic-tac-toe on a glass door, with Amelia on one side, and her great aunt on the other.
A stop outside her great grandmother's residence resulted in words of encouragement – "You may feel alone, but we're in this together" – written on the walkway in chalk.
Her mother said Amelia's efforts are appreciated.
"She's great for doing it. She always tries to put a smile on everyone's face," Lisa said.
As for what she's done, Amelia said it is nice to make others smile.
"I'm doing my best, but I'm just trying to keep people happy," she said.
Amelia said the self-distancing because of COVID-19 isn't easy. She misses family members, but the person she misses the most is her best friend, Rylee.
"We FaceTime all the time, every day and all night," she said.