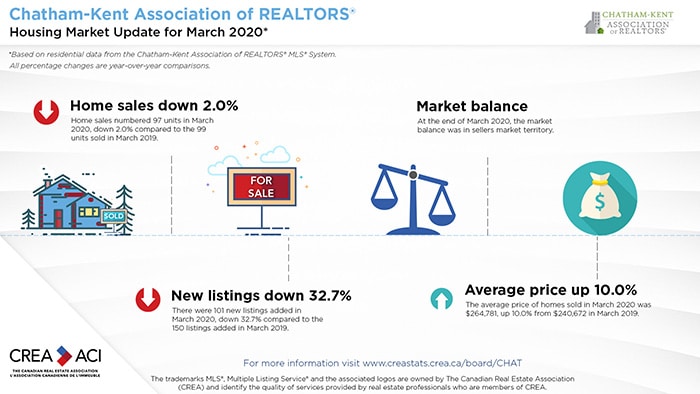 COVID-19 nibbled into residential home sales in Chatham-Kent in March, as the Chatham-Kent Association of Realtors (CKAR) said sales dipped two per cent compared to March 2019.
In total, 97 units changed hands, down two from the previous March.
But to date, on a year-to-date basis, home sales totalled a record 275 units over the first three months of the year. This was an increase of 15.5 per cent from the same period in 2019.
"With the government issuing a state of emergency, it is apparent that sellers are heeding to the recommendations of no face-to-face activity, which made the first half of the month look very different from the second half," said Michael Gibbons, president of CKAR, in a media release. "Due to the current self-isolation practices, new listings were down considerably, and the number of homes for sale on the market to start April was the lowest ever. If you must be in the market, realtors will provide essential assistance. The reality is that it is not business as usual and won't be for some time."
The average price of homes sold in March 2020 was $264,781, up 10 per cent from March 2019. The more comprehensive year-to-date average price was $265,109, rising 12 per cent from the first three months of 2019
There were 101 new residential listings in March 2020. This was a large decline of 32.7 per cent on a year-over-year basis.
Due to the Covid-19 pandemic and the continuing lack of inventory, overall supply is currently trending at record lows. Active residential listings numbered 145 units at the end of March. This was down 27.1 per cent from the end of March 2019.