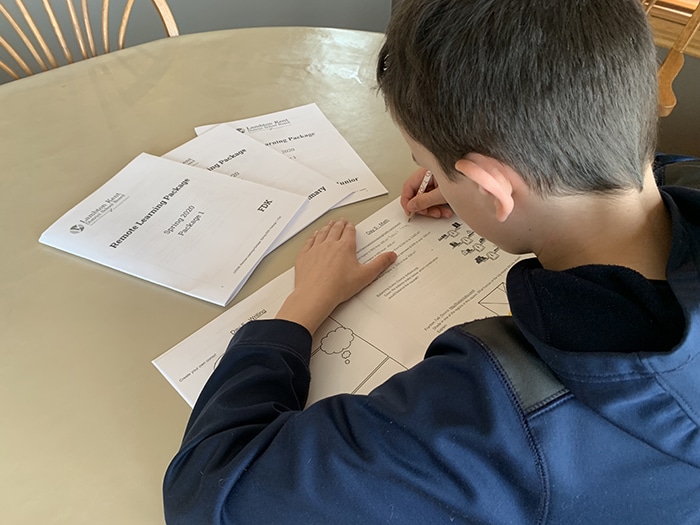 Jenna Cocullo, Local Journalism Initiative Reporter
The Lambton-Kent District School Board (LKDSB) is leading the way in an effort to bring education right to the front door of students without internet access, by sharing their specially developed remote-learning packages with other districts across the province.
Since the Government of Ontario first shut down schools in an effort to flatten the COVID-19 curve, school boards have been scrambling to implement various at-home learning methods, such as online classrooms and teleconferencing.
LKDSB developed booklets that they then mailed to the homes of their students without Internet or with poor access.
At Tuesday night's board meeting, John Howitt, director of education, said that school boards across the province, such as London's and Hamilton's, were following suit, asking LKDSB for permission to use their booklets.
"There are spots within our board where our students, and in some cases our staff, live that do not have better than a 3G connection, if they're using their cell phones, or a dial-up connection, if we're talking about hard wired. To work, those speeds don't allow for some of the activity that we're asking students to do. That's a real legitimate issue when providing a device, or Wi-Fi hotspot doesn't fit. So I commend again to the senior team, and their departments who have come up with paper booklets," Howitt said.
More than 2,200 devices were handed out by LKDSB to students who do not have adequate technology. But for geographic reasons, and other concerns such as finances, there are still thousands of kids without Internet access in the Lambton and Chatham-Kent counties alone.
Just at the elementary level, 1,800 booklets were handed out to LKDSB students, said superintendent Ben Hazzard. There are around an additional 1,000 that were handed out to students in the higher levels and LKDSB's Indigenous partners.
Booklets are produced for Kindergarten students then clumped together by every second grade, ending with Grade 7-8.
The booklets are crafted lessons developed by specialized teachers in the school board whose job it is to educate other teachers.
For secondary school, teachers at each local school are mailing out their own packages as each class differs based on the institution, explained Hazzard.
Booklets for the elementary students are focusing on literacy, reading, writing and math, however, teachers have also built in some science and art activities to make sure students would still have a rounded experience.
Teachers are phoning students with the booklets to guide them through their exercises and answer any questions. Students then mail back the finished product and receive further feedback.
Hazzard said it takes the school board only four days to turn around the next batch of booklets and all costs have been repurposed from other areas of the school board's budget.
"Any cost here was worth it to provide support to those that do not have it," he said.
"We think we were among the first to have the idea, but it doesn't matter because the truth is we were all working together and we want to share with the other districts."
 More than 100 teachers added to $100K salary list in four years
LKDSB also released its Public Salary Disclosure for 2019, with 273 teachers making the list.
The Public Sector Salary Disclosure Act, enacted in 1996, requires all employees paid by the public purse making more than $100,000 to be disclosed each year. The threshold for salary disclosure has not been increased since the act was enacted.
For comparison, in 2016 only 149 teachers were paid more than $100,000, which climbed to 199 in 2017, and  257 in 2018.
Howitt said with the newly signed agreement between the province and the teachers' unions that next year's numbers are also expected to significantly increase.
Lambton Kent District School Board's director of education James Costello, who retired partway through the year, finished off his career raking in $189,803.37, topping the list. In 2018, his full salary amounted to $ 223,373.
Howitt, who is Costello's successor, made $139,628.48 as a superintendent of education with the Greater Essex County District School Board for part of 2019. His salary for the months spent as LKDSB education director did not amount to $100,000 and was therefore not disclosed.
Superintendents Angie Barrese, Gary Giradi, Ben Hazard, Brian McKay and Donald Mark Sherman all received a little more than $179,000. Superintendent of Education, Mary Machini, was the only one who received less, earning $153,713.