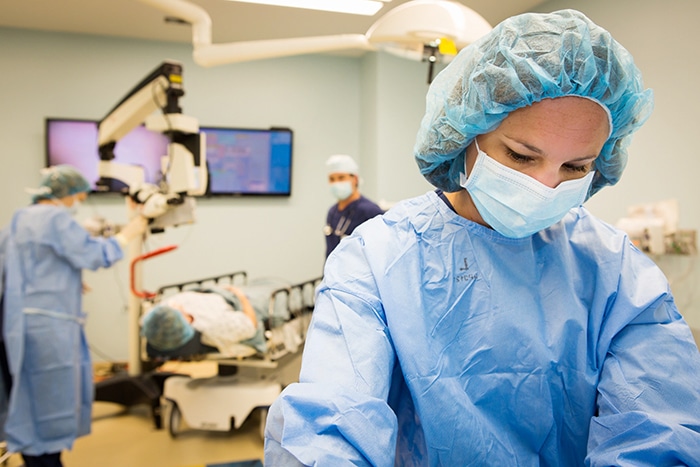 The Chatham-Kent Health Alliance is augmenting its nursing numbers in preparation for a rise in COVID-19 patients.
Lisa Northcott, vice president and chief nursing executive for CKHA, said staff will redeploy within the alliance, but there will be augmentations done via retired staff returning to work, as well as nursing student and nursing graduate hires.
"We started by redeploying some of our staff. We stopped some of our non-critical services and elective surgeries. We're only doing emergency or urgent appointments," she said. "We had 40 nurses to redeploy as a result to other pats of the building. We've given them orientation in those areas so they are comfortable working there."
Northcott said the CKHA has already hired seven nursing graduates and hopes to add three more.
As well, retired personnel were contacted to gauge interest of stepping up at this time.
Northcott said three are ready and six others, who are working in other sectors of health care, are prepared to slide back into nursing roles if needed.
"We have gone back three years and reached out to our retirees," she said.
The alliance also hired 10 nursing program students – people not yet in a position to graduate, but with an education that will help them provide support to frontline staff.
"They started last week, helping in ambulatory efforts, delivering food trays to patients, some activities they've received training for in their current state of their programs," Northcott said.
Wallaceburg's Simon Duchesne, 21, is one of those hires. The second-year nursing student from the University of Windsor wanted to help however he could.
"Being young and healthy, I felt I had a duty to help out any way I can. I saw the opportunity and jumped on it. You feel this is a once-in-a-lifetime experience to get on the frontline of a very serious situation," he said. "We completed our general orientation this week to ready us for our new roles and I feel very welcomed and supported here."
Duchesne said he expects to "basically be an extra pair of hands on the floor," as the students can't do anything for which a nurse would have to be certified.
For all new hires, Northcott said the most important element to be trained on and have ingrained is the proper use of personal protective equipment (PPE).
"In a hospital, we have lots of different infections we deal with normally, and now with COVID-19, a significant part of the orientation is how to put on PPE, how to wear it properly and the appropriate times on when to wear it," she said.
That training, along with proper PPE, should protect health-care workers over the age of 55 – such as some of the retired and now returning nurses – from COVID-19 exposure, Northcott said.
"We're working hard to make sure our staff are safe. We've implemented measures – universal masking started Sunday. Any individual working at CKHA that has contact with patients is wearing a mask and a (face) shield for the entire shift," she said. "We feel that putting that measure in place will keep our staff safe from COVID-19 exposure."
With preparations in place, it is now a hurry-up-and-wait situation for health-care workers locally. Northcott said as of today, CKHA is at 55 per cent patient occupancy. Staffing levels are higher with full-time staff in the facilities at both campuses, and there are part-time staff ready to shift into full-time hours as needed.
"We're comfortable with the staffing levels at this point in time and comfortable with who is available," she said. "Some of the staff we've redeployed – some of our full-time staff – aren't at home resting. They are working a normal shift, but doing different work, such as staff screening. And a lot of our part-time staff just aren't being booked the same number of hours. They are ready to be deployed if we need them."
If you are a nursing student, graduate or retiree and are interested in helping out during this unprecedented time at CKHA, hospital officials said to contact Kyle Jelovic, recruitment advisor, at 519-352-6401 ext. 6057 or kjelovic@ckha.on.ca for more information.