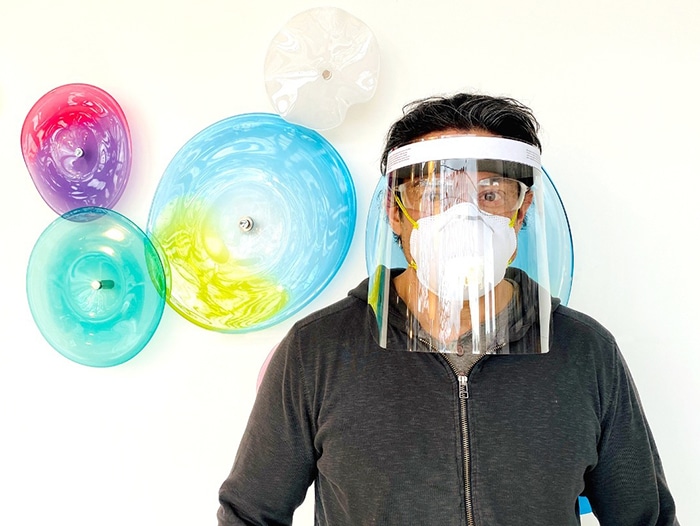 In the midst of overwhelming concern for frontline health-care workers, nursing home workers, and the first responders in our community, the need for personal protective equipment (PPE) has become the focus of many agencies.
One local man is doing what he can to help and is asking others to do the same by aiding a Windsor company to change its focus from glass to making face shields.
Chatham's Chris Foster has heard about the struggle of nursing home staff in getting the needed PPE, as frontline health-care workers have been the main focus as they fight to save lives in the hospital.
But he couldn't ignore the needs of nursing home staff who are caring for the elderly, he said, many of whom may have dementia and are very confused about what is happening around them.
They are also a vulnerable population to the ill effects of COVID-19, and family can't visit them.
"I was tipped off to a company in Windsor, Tsunami Glassworks and Soffi Lighting, who have product that can make face shields. It's an industry-approved pattern and free to the public and they are making the shields," Foster said in a phone interview. "I called them to order 100 shields and I am donating 50 of them to nursing homes in Chatham-Kent. The other 50 are being donated in Windsor."
The company originally made 300 and is looking to make another 600, Foster said, and is asking the community for help via a GoFundMe page with the goal of raising $10,000. Currently, the page has raised more than $7,000 towards that goal, and Foster wants the community to help reach that goal and beyond.
The funds raised will go towards the purchase the materials needed to make the masks and the link is https://www.gofundme.com/f/help-us-make-and-donate-ppe-to-frontline-workers
"I want to make sure those people have them and I'm just trying to do what I can," he noted. "I don't want this about me; it's about what you as an individual can do to help."
Eva Milinkovic and husband Kris Gene founded Tsunami Glassworks and Soffi Lighting in Windsor. It is a decorative glass and lighting company dedicated to working with interior design firms worldwide, with about 30 per cent of their clients in Canada.
In a phone interview Tuesday, Milinkovic said they saw the gap in PPE procurement for smaller health clinics, nursing homes and pharmacies, as hospital workers were most in need of equipment.
"We have never done anything like this before, but we thought, we can make chandeliers so we can make face shields to fill that gap for workers who are scrambling to find PPE during this crisis," Milinkovic said. "We've never done a GoFundMe page before so we picked the random number of $10,000 as we weren't sure of the response. But we will keep going as long as we can with the money raised for the materials."
The business owner said they closed down their showroom, and five employees are making 100-300 shields a day.
"Once we get really rolling, we will get more out there. We're just covering costs right now and have connected with some suppliers. We're looking at collaborating with as many people as possible," she noted.
Any companies that can supply the raw materials needed such as plastic sheet, foam cushioning, fasteners, elastic headbands and packaging, are asked to contact Milinkovic at 519-258-7620. The more supplies they can purchase, the more face shields they can make.
Milinkovic said they are also looking to hear from people such as Foster, who can connect them to clinics, nursing homes or social service groups who are in need of PPE.
While Foster was able to drive to Windsor to pick up the masks he ordered, there is a shipping option available to groups who are more distant from Windsor.
While they are in touch with hospitals, the Glassworks owners really want to help the workers who are in that gap when it comes to being safe from contamination at work.
"I'm speechless. I can't believe that companies aren't getting the supplies they need to protect employees," Milinkovic said.
Once the GoFundMe goal is raised, she said they will keep going as long as they get donations to purchase supplies and will keep going as long as the crisis lasts.
Meadow Park Nursing Home is one of the Chatham organizations to receive 10 face shields from Foster. Administrator Anne-Marie Rumble said they are very thankful for the donation.
"With things being so very uncertain, you can't be protected enough and this donation will ensure additional protection should a resident get the virus," Rumble said. "They're beautiful shields, very good quality and that's a gift. Chris (Foster) is an angel and we're very thankful for angels."