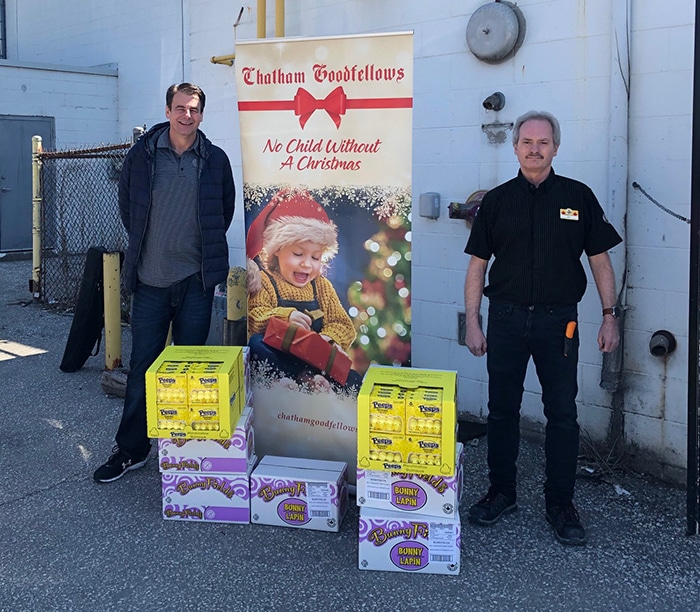 The Chatham Goodfellows motto is, "No Child Without a Christmas," but they are going a little further, a little earlier in the year.
According to the organization, a key statement in their Code is "It's helping the young and old to know that someone cares when ill winds blow. It's smoothing the way when the road is rough. Understanding a neighbour's plight, and caring enough to do what is right."
With that in mind during the COVID-19 pandemic, the Goodfellows board of directors decided on the weekend to purchase Easter chocolate for distribution to children in Chatham-Kent.
In order to minimize the spread of the virus, according to Goodfellows officials, physical distancing and minimal contact with others is absolutely vital. As a result, for the distribution of the chocolate, the board has identified three locations that have already implemented Covid-19 precautions in their day-to-day operation, FreeHelp CK, the WISH Centre, and Outreach for Hunger.
Below is the contact information for the respective groups.  Goodfellows officials urge people to follow the Covid-19 directions and guidelines of the respective agencies.
The Easter chocolates will be delivered by Chatham Goodfellows to the below locations on Monday afternoon.
FreeHelp CK, 137 Queen St., Chatham.
519-990-5178
Call for direction for pickup
WISH Centre, 177 King St. W., Chatham.
519-354-5248
Call for distribution details the offices is not open for the public
Outreach for Hunger, 10 Wellington St. W., Chatham.
519-351-8381
Pickup is Wednesday and Thursday, 11 a.m.-3:30 p.m.
"The Chatham Goodfellows' board urges everyone to follow all of the Covid-19 guidelines. On behalf of the Board of Directors for Chatham Goodfellows, we wish everyone a safe and happy Easter," the Goodfellows board stated in a press release.
Comments
comments