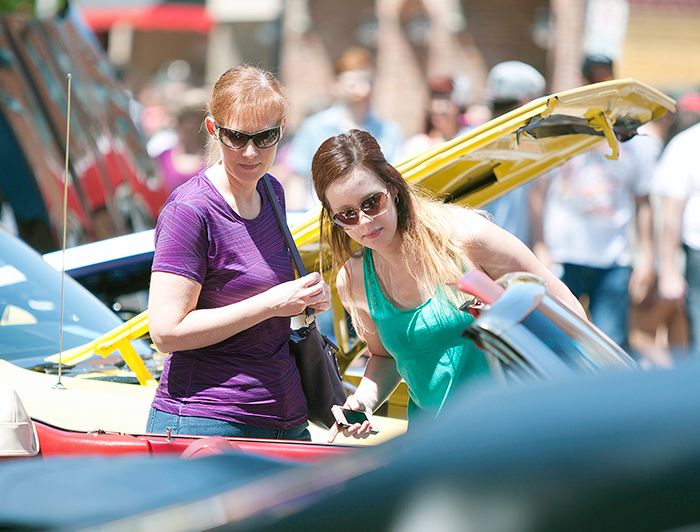 Retro Fest 2020, many community events cancelled
Chatham-Kent's largest and most popular festival has been cancelled.
On Friday, the Historic Downtown Chatham Business Improvement Association's board of directors, announced that RetroFest 2020 will be cancelled, following a COVID-19 local emergency declaration issued by the city's medical officer, Dr. David Colby.
One of the orders issued by Colby was a ban of all mass gatherings of 250 or more people.
Despite the festival taking place in May, Paul Shettell, co-chair of the historic board, said after receiving some legal advice the board decided to proceed with the cancellation. Shettell also said they will not simply postpone the event because it would be too challenging to deliver the same quality of festival.
Many businesses, local services are altering services and events. The Chatham Voice will update the list as more information becomes available.
Active Lifestyle Centre
ALC has decided to shut their doors until April 5, to coincide with the school and daycare closings. The tax clinic had been rescheduled to April 25, and the foot care clinics will resume in May every Tuesday.
"The centre has never done that before in our 50 year history," Jan Reinhardus, recreation co-ordinator for ALC, said.
ALC works with seniors, which are one of the more vulnerable sectors to contract the virus and have a higher mortality rate. Reinhardus said around this time of year they have a lot of snowbirds returning home and it is better to err on the side of caution.
Kiwanis Music festival
The Kiwanis Club of Chatham will not be celebrating the 75th annual music showcase this year, as the show has been cancelled with no plans to reschedule, as stated in their public notice.
Public Libraries
All programs and events at all branches of the Chatham-Kent Public Library are cancelled, including March Break programming and all low-income tax clinics.
The cancellation of programs and events will be reviewed on April 5.
Municipal programs
All programs and services, including public swimming under Chatham-Kent Recreation, and March Break programs, are cancelled indefinitely. The city stated on their website that refunds will be issued.
Licensed child-care 
All licensed child-care facilities are to be closed from March 14-April 5.
Primary and secondary schools
All public and private schools to be closed from March 14-April 5. The school boards, which are required by legislation to hold 194 days of classes, and have already cancelled several days due to teacher's strikes, but have not yet stated if they will continue courses through online education or extend the year into the summer.
St. Clair College 
St. Clair College announced on Friday that it would move to online classes starting March 23, following March Break.
"What we're trying to do is reduce the population density on our campuses," said Waseem Habash, Vice President Academic.
The college will finish the semester with online classes, which means they will run through to April 17.
Student labs, such as Skilled Trades, which are smaller in size, will continue to operate, unless the Ministry of Colleges and Universities suspends all face-to-face communication.
"There are no cases, so there is not a safety issue, so the labs can continue," Habash said.
St. Clair College will continue to update its website as this evolving situation develops.
C-K Chamber of Commerce
Due to the evolving situation with COVID-19, the Chatham-Kent Chamber of Commerce Business Excellence Awards Banquet currently scheduled for April 16 is being postponed.
The plan is to reschedule to early-mid June, or even into September, depending on the health circumstances, according to chamber officials.
Chatham Home & Garden Show
The Chatham Home & Garden Show, slated to run later this month, will be postponed.
Organizers said they hope to rebook the event for early May.
•••
Saturday's Outreach Breakfast at First Presbyterian Church on Fifth Street and the Sunday service will continue to run this week.
Rev. Mike Maroney said everything is running for the time being, but they are in contact with health officials and taking extra preventative measures.
The weekly breakfast serves between 120-140 people, sometimes reaching as high as 160.
"A significant number of people rely on predictable good meals that they can count on during the week," Maroney said. "At the moment we don't have any outright contingency plans but are brainstorming. We have to do something to continually help people. If (the breakfast) is threatened, that is substantial."
•••
To date, larger gathering areas in the community such as the YMCA, Galaxy Cinema and Cascade Casino are all operating, according to staff. Managers and board of director members could not yet be reached for further comment on their long-term plans.
•••
Contact the Chatham Voice if you would like to add changes to your community organization or business hours, due to the COVID-19, to our list. E-mail your information to jenna@chathamvoice.com.
•••
Contact the Chatham Voice if you would like to add changes to your community organization or business hours, due to the COVID-19, to our list. E-mail your information to jenna@chathamvoice.com.