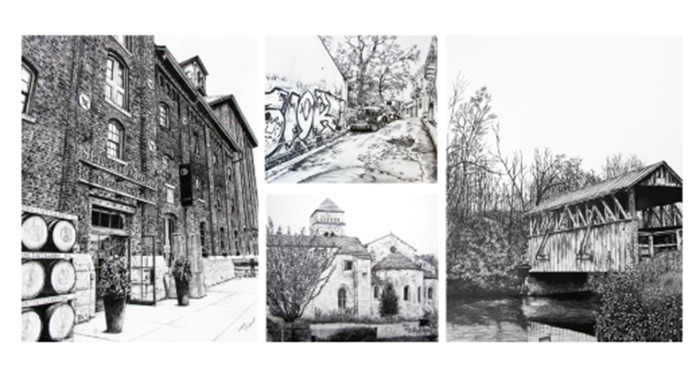 ARTspace presents a new series of pen and ink drawings by local artist Lorie Thibault.
Her exhibition, "Between the Lines," opens to the public with a free reception on Friday from 7 p.m. to 9 p.m.
Thibault's intricate works reflect the artist's keen sense of observation. An avid traveler, Thibault is drawn to the sorts of subjects a traveler might seek out or encounter. Subjects like historical landmarks, architecture, and landscapes fill her pages like destinations, her work evoking a sense of imagination and memory with which most travelers are familiar.
Like many artists who work with the pen and ink technique, she describes her process as both pleasurable and trance-like. She speaks about the studio as an escape from the commonplace pressures typical of daily life and a way to embrace wonder.
Regarding her practice, she states that it is there she finds "moments where I imagine to get away, to travel, to escape the normal day to day and gather inspiration, capturing it one line at a time."
ARTspace is located at 165½ King St. W. in downtown Chatham and is open from noon to 5 p.m. Wednesday through Saturday.