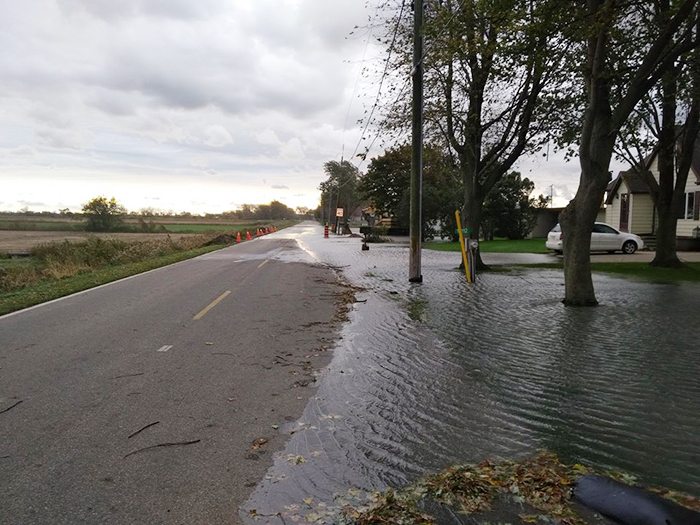 By Jenna Cocullo
Stephanie Robinson was at a loss for words following a unanimous vote from Chatham-Kent council to temporarily close Erie Shore Drive at Monday night's meeting.
"Right now I am just torn as to what to do. I don't know. This is devastating. I am in shock right now. I could be screwed," Robinson told The Chatham Voice after the motion passed.
Council approved a motion brought forward by Coun. Melissa Harrigan for a temporary closure of Erie Shore Drive as of March 9 until further recommendations from infrastructure and engineering services could be made.
The vote comes after a state of emergency was declared Friday for Erie Shore Drive due to an "elevated possibility of failure of a portion of the dike."
Before the vote, 15 residents spoke before council, all but one requesting more time for planning.
Residents of Erie Shore Drive are concerned a road closure will lead to a loss of insurance and their mortgages because emergency vehicles will be barred from accessing the road.
"I have a mortgage that I don't know if I can salvage if emergency vehicles can't access the road," Robinson said.
"I am a single mother of an eight-year-old boy," she said during the deputations. "What are my son and I going to do?"
Terra Cadeau, president of the Erie Shore Drive Property Owners Association, read a legal letter to council during the deputations, informing them of the association's intent to take legal action to claim damages to their properties if necessary.
Monday night's motion instructed administration to bring a report to council within eight weeks, exploring various options to buy out the properties, permanently close the road or build an alternate route.
Thomas Kelly, general manager of Infrastructure and Engineering Services, stressed the urgency to begin work as soon as possible, and informed council of his intent to work seven days a week around the clock to get phase one done within six weeks, weather permitting.
Costs for phase one are estimated to reach $450,000, however, Kelly said the overtime may up the city's bill.