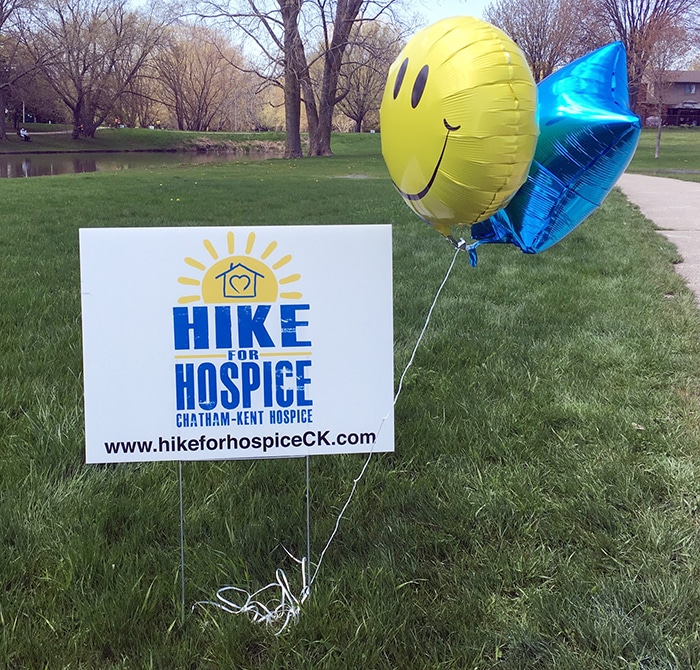 Chatham-Kent is a community that rallies behind good causes, but there has been no project that has garnered more local support than the Chatham-Kent Hospice.
Since its inception, the concept of the hospice experience that allows people to die with dignity and in comfort with their loved ones around them, has been well received. Fundraising dollars flowed in, as did volunteers and compassionate, trained hospice workers and in what seemed like no time, the C-K Hospice was accepting its first palliative patients.
That community support for the hospice continues today, with continual fundraisers and praise from family and friends with loved ones living their final days surrounded by compassion and unconditional love.
The Hike for Hospice, coming up May 3, is an annual event that raises incredible amounts, and as organizer Nathan McKinley said, it continues to grow and evolve with community support.
The Gathering of Friends – Chatham-Kent is also an organically grown event that was inspired by men who visited their friend in hospice and were amazed by the love and care he was shown in his final days. That fundraising event is coming up March 7 at the KBD Club and it also continues to grow, with more money raised each year from freewill offerings.
These two upcoming events are a just a sampling of the community support for our hospice and the incredible board and staff who run it. Knowing there is a place your loved one can go, where you just spend time with them without being the caregiver, is an incredible gift during a very difficult time.
If you can, join the hike as an individual, a family or a corporate group, go the Gathering of Friends and enjoy the people in your life while you are alive to do so, and keep an important community asset like the hospice running. Funds raised are the lifeblood of C-K Hospice and it is a support that everyone will eventually need.
We all will die some time, and the fact we have a place like hospice to be there for us and make our last days comfortable, is a tremendous gift to our community.
Comments
comments