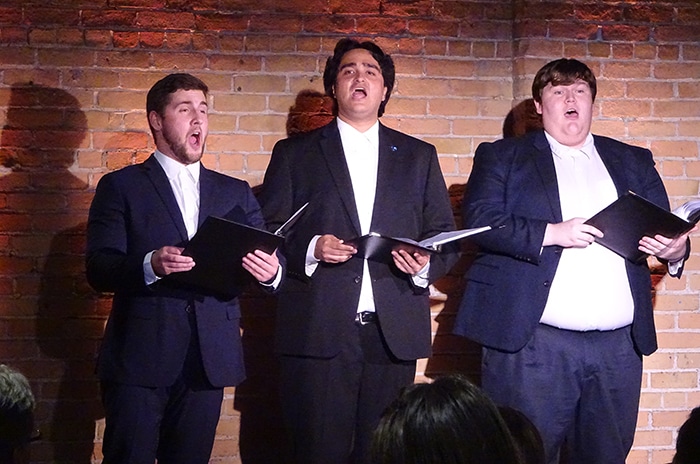 Special Kiwanis concert March 7
As part of the 75th anniversary celebrations of the Kiwanis Music Festival, three notable Festival alumni are returning to Chatham for vocal and violin performances on March 7 at the Kiwanis Theatre in Chatham.
The next in the Homecoming Concert series for the Festival will see the return of alumni Ben Smith, pianist; Ryan Nauta, tenor; and violinist Jordan Clayton. All these of these musicians are previous winners in the Festival.
According to Jim Prosser, Chatham pianist and music teacher, Nauta graduated from McGill University with his Masters in Voice, and was in Chatham last year for the Three Tenors concert with other alumni Ian Cleary, who has been accepted in the Vancouver Opera Young Artist program, and Zander Bechard.
Clayton, a Chatham native, is working on finishing his doctorate in musical arts at Western University right now, and is also a former winner of the Festival.
Smith is playing collaboratively for the group, on piano, in addition to playing several solo classical pieces at the concert. He is a graduate of Julliard in New York, and has his doctorate of music as well. Prosser said he travels all over the country as an adjudicator and performer.
"He really is an outstanding pianist. The solo concert he played last year was remarkable," Prosser noted and he looks forward to seeing all three musicians together in one concert.
This March 7 concert, Prosser said, is the third in a series to celebrate the 75th anniversary of the music festival. Last year, Heather Kosik was featured in a cabaret, and the Three Chatham Tenors concert comprised the first two in the series.
The Kiwanis Musical Festival has been a big part of the music scene in Chatham for 75 years, and Prosser said besides being an excellent showcase for local musical talent, the people behind the scenes are what keep it going strong, year after year.
"It's a thriving Festival. We have 600 entries this year that includes pianists, singers, instrumentalists, school groups and it's all operated by hard-working volunteers. No one gets paid to run this," Prosser explained. "It provides a great, great benefit to the musical artistic life of this community."
He added that parents who believe in the arts and its importance are a big factor too, who, despite the arts not being taught as much in schools, seek out private music teachers to give their children the opportunity to learn. Then the Festival offers those students a chance to showcase their skills.
"It's not about competing to win, necessarily. It's about hearing other people your own age doing this thing that is special and unusual, although it's less common than it used to be," Prosser noted. "Being able to take pride in what they achieve, it's a very good learning opportunity for children."
Looking at arts for kids, the pianist said it's not merely an outlet for them.
"The intellectual development that kids achieve through the arts is remarkable," Prosser said. "If you increase good, quality music teaching and arts teaching, you will increase math scores. The kind of focus that is required in music is far beyond anything that you do that involves the intellect, the emotion, the physicality; you have to learn to do all these things which generalizes across the whole intellectual spectrum."
Fees to enter the Festival have been kept reasonable to make sure it is accessible to as many students as possible, given that parents might be paying for private lessons as well. Ultimately, Prosser said the longevity of the Festival can be attributed to the community's desire to acknowledge it is a valuable event.
The March 7 concert begins at 8 p.m. and tickets are $25, available at the door at 75 William St., from Kiwanis Club members or by emailing ckmf75th@gmail.com.