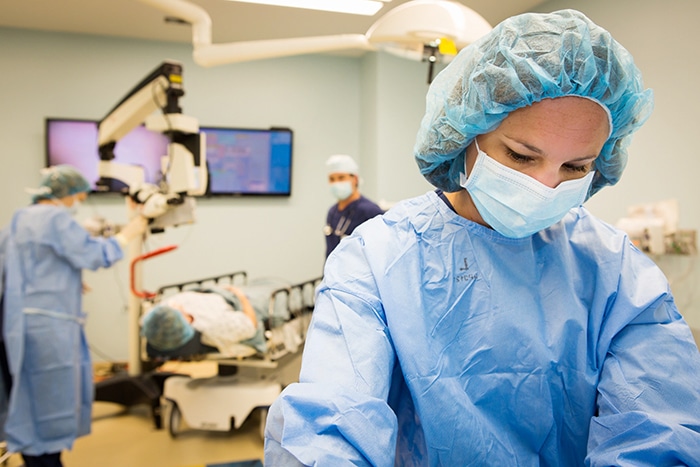 St. Clair College officials say they are hard at work to develop Bachelor of Nursing programs that don't hand off students to the University of Windsor.
And that includes a potential full program at the college's Thames Campus in Chatham.
The provincial government recently decided to give colleges the option to deliver standalone nursing degree programs.
To become a registered nurse in Ontario (and a member of the College of Nurses of Ontario), students must obtain a baccalaureate degree in nursing. Providing institutions with the option to continue a collaborative partnership or offer a stand-alone program for future registered nurses allows greater flexibility in meeting particular needs in local communities, according to Rick Nicholls, MPP for Chatham-Kent-Leamington.
"This new policy will allow institutions to have greater autonomy and flexibility over their programming, while maintaining excellence in nursing education," Nicholls said in a media release. "Colleges and universities will be able to choose whether to deliver their programs collaboratively or on a standalone basis. For colleges, this will be the first time they would be able to offer the Bachelor nursing degree independently of a university partner."
St. Clair College President Patti France welcomed the announcement.
"This is terrific news for students and health-care professionals in Windsor-Essex and Chatham-Kent," she said.
Waseem Habash, vice-president of academics to St. Clair College, said the college hopes to see Thames Campus have a standalone full nursing program, as well as the Windsor Campus.
"We are currently in discussions with the University of Windsor to hopefully collaborate and allow St. Clair College to deliver years three and four at our Chatham campus," he said. Currently, nursing students can begin their studies here, but have to shift to Windsor to complete the program. "If we are unable to find such a resolution, then, it will be necessary for St. Clair College to develop an independent standalone four-year nursing program."
Chatham-Kent Mayor Darrin Canniff sees a full nursing program in Chatham as beneficial to local health care.
"Nurses are a vital link in our health-care system and I'm pleased that the province has decided to allow colleges to provide stand-alone nursing degree programs," he said. "St. Clair College has an outstanding reputation and the fact that local students will be able to complete their degree closer to home is a significant step forward for our community and health care."
Since 2000, the province has required any college wishing to offer a nursing degree program to partner with a university. Research has shown that this has created unnecessary costs and other bureaucratic hurdles for some, discouraging students from going into the nursing profession.
The Thames Campus situation is a prime example. Students enrol in the college program here but have to relocate to Windsor to complete the program at the University of Windsor.
Providing students with the option to complete their nursing degree program in their home community reduces the costs for students, making nursing programs more attractive to students who wish to study and pursue careers in local communities, college officials said.
Habash said the announcement would have no immediate impact. Students enrolled in the current program will still be required to finish it at the University of Windsor for Years 3 and 4. That reality will also apply to nursing students who begin their studies this fall.
"It is our hope that we will obtain all the necessary approvals and be able to launch this program by fall 2022 at the latest," he said. "We would be pushing for an earlier date but it is difficult to give precise timing since the approval process for accreditation and delivery can potentially be lengthy."
Comments
comments