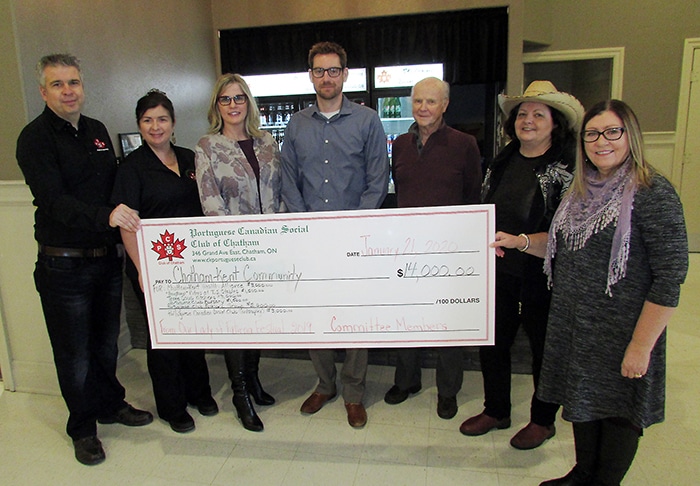 Organizers of the 2019 Our Lady of Fatima (OLOF) Festival gave back recently to the community.
The committee donated $14,000 to various local charitable organizations and non-profits.
OLOF committee member Maria Filomena Ventura said the fundraising was made possible by support from businesses for events at the festival. That included draws at the annual feast on the Sunday of the two-day festival.
"We really are very lucky in Chatham-Kent," Ventura said of the support from citizens and attendees.
Three soup kitchens – the Caring Kitchen from St. Ursula's, the St. Vincent bag lunch program and the St. Agnes Church soup kitchen – each received $1,000.
The Foundation of the Chatham-Kent Health Alliance received $3,000, which is to be directed for a new bassinet fundraising program.
T.J. Stables' Acceptional Rider program received a $1,500 boost.
The Portuguese Canadian Social Club received donations of $1,500 for a post-secondary bursary program, $2,000 for the club's Folkloric Group, and $3,000 for landscape work.
Recipients said the funding is appreciated.
"Today is about partnerships. This is remarkable," said the Foundation of CKHA's Mary Lou Crowley.
Terry Jenkins of T.J. Stables said the Acceptional Riders program has 130 riders and 80 volunteers.
"This is so appreciated," she said of the donation.
Mike Gavin of Caring Kitchen said a donation of $1,000 could feed about 300 people at the soup kitchen.
The festival, which took place in late June of last year, marked the 40th anniversary of the event in Chatham. It featured sports activities, mass, a parade and the feast.
Comments
comments