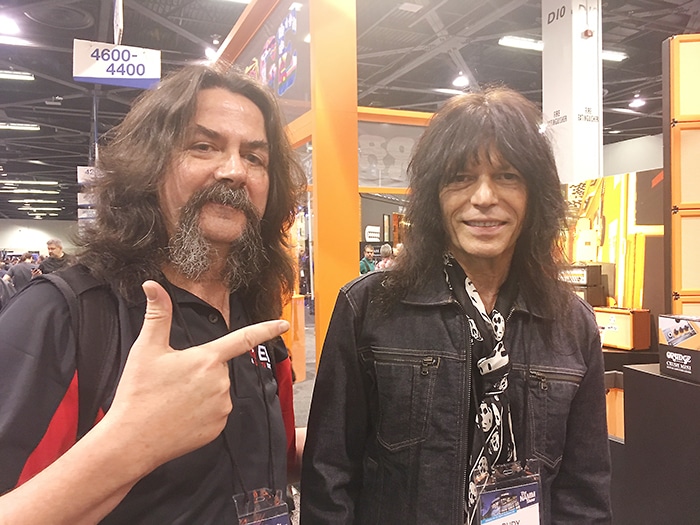 Local resident interviews rock guitarists, music industry giants
Eric Broadbent's love of music has taken him from the stage to the studio; from behind a guitar to in front of a camera.
The Chatham-Kent native, who for more than a decade has shredded strings as lead guitarist in the rock band Finding Core, is now a veteran YouTube content producer with multiple shows on his Music Gear Network.
Broadbent, 51, has gone from playing on the same stage as some of rock and roll's biggest names to interviewing them, learning about what makes them tick, and what gives them their unique sound.
And he does most of it from the comfort of his Ridgetown home.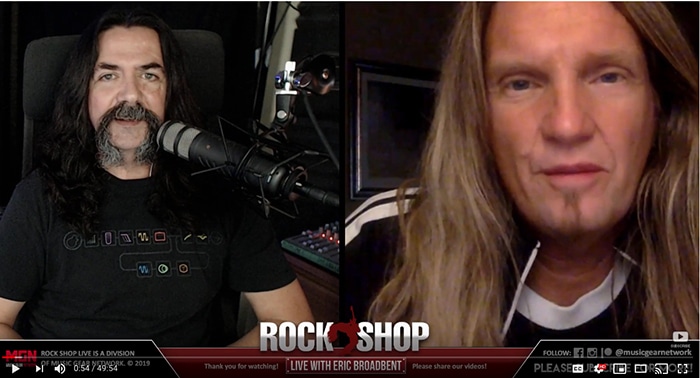 Much of Broadbent's drive comes from his life-long appreciation for the talent of the man behind the Frankenstrat, Eddie Van Halen. After Finding Core wound down, Broadbent played with 5150, a Canadian Van Halen cover band.
And when the touring ceased, about three and a half years ago, Broadbent turned to online broadcasting. His passion for all things Van Halen led to the development of EVH Gear Network, which featured the EVH brand, the brainchild of Eddie Van Halen, as well as interviews of musicians who use the products. That morphed into Music Gear Network earlier this year.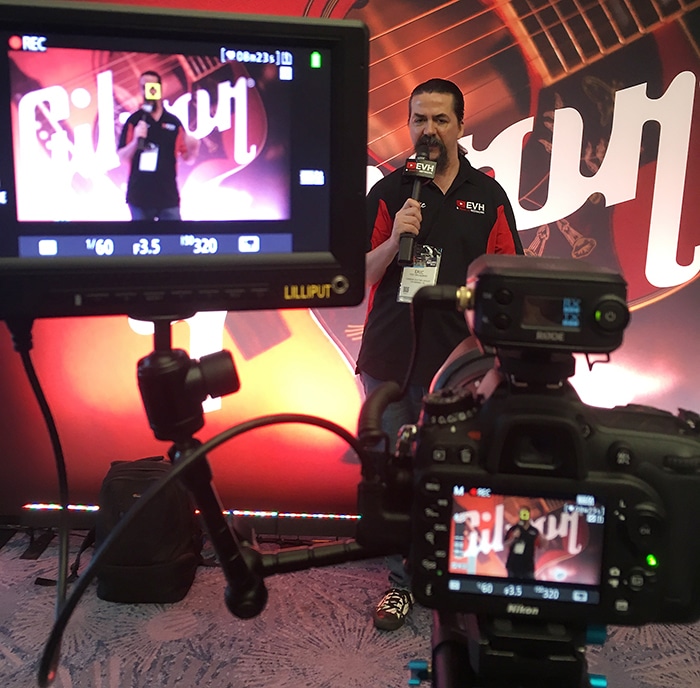 At his busiest, Broadbent, who runs Design39Media by day, had four different shows running on his YouTube channel: the Rock Shop; the Helix Hour, which features Yamaha equipment; The Kramer Korner, which focuses on Kramer guitars; and the Rocking Dead, where Broadbent featured interviews with actors from the TV show The Walking Dead and focused on all things about the show and its spinoff video games. He has discontinued the latter show, as he was doing too much.
Through it all, he's chatted with the likes of comedians George Lopez and Harry Shearer (in his Derek Smalls character in the faux band Spinal Tap), revered rock performers such as legendary bassist Billy Sheehan, Alice Cooper's Nita Strauss, and Living Color's Vernon Reid.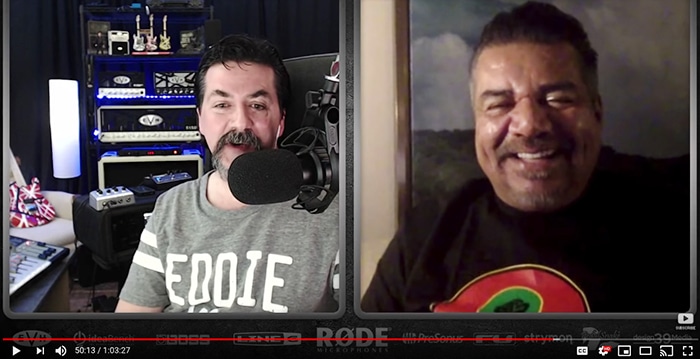 As he gains interest on the Internet, Broadbent also gains comparisons. Many of those are to Smalls, the bassist of the hard rock band that was featured in the mockumentary "This is Spinal Tap."
Smalls and Broadbent share a common identifier, and it's not a cucumber wrapped in tinfoil. Instead, it's the horseshoe moustache.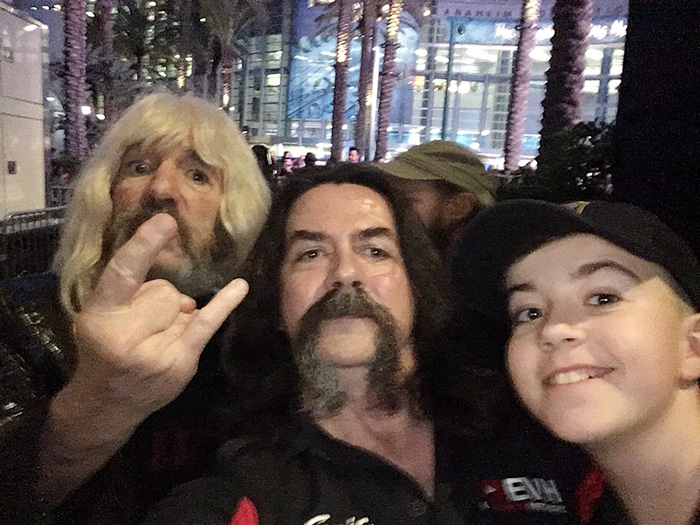 "Derek Smalls – I get that a lot. Probably 10 per cent of my YouTube comments seem to relate to me looking like Derek Smalls," Broadbent said, adding he enjoys it. "I'm a huge fan of Spinal Tap."
Broadbent and his son Eric Jr. met Shearer/Smalls at NAMM (National Association of Music Merchants) last year in Anaheim, Calif. He knew it would be great to get him on Rock Shop. But it wasn't easy.
"It was probably a good year in the works. I didn't know if I'd be getting him as Harry Shearer or in character. And he was in character as Derek Smalls," Broadbent said.
The result was 30 minutes of fun Sept. 25.
Discussions dealt with such important issues (to Smalls at least) of colour fields, as each song could require a different coloured bass guitar to play.
"Each song has its own colour field, and if you don't represent that, then the audience isn't getting full value for the song," Smalls said in the interview. It's classic Tap mentality.
Smalls is but one of Broadbent's many guests he's interviewed to date. Some stand out in particular to the host, including guitarist Jason Becker.
"He's a great guitarist with ALS (a progressive neurodegenerative disease). He was diagnosed at age 20 back in the early 1990s while with the David Lee Roth band," Broadbent said. "He's now confined to a wheelchair and can no longer speak. He communicated via a special computer."
"There have just been so many great interviews. It's only been three years and a few months," he said.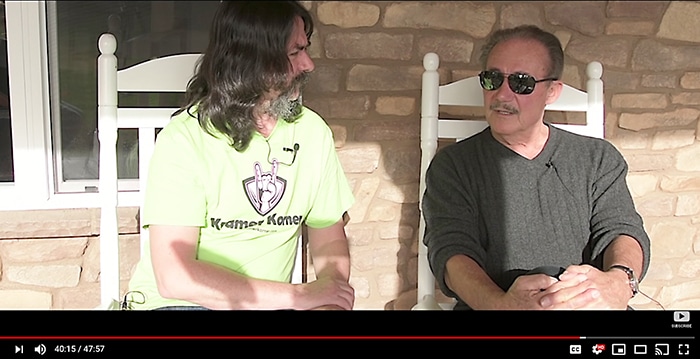 And it morphed out of just creating a YouTube channel to upload videos and archived footage of Finding Core.
"I had just quit the band before that. I got positive feedback (on the content) and it eventually turned into having conversations with some people," he said.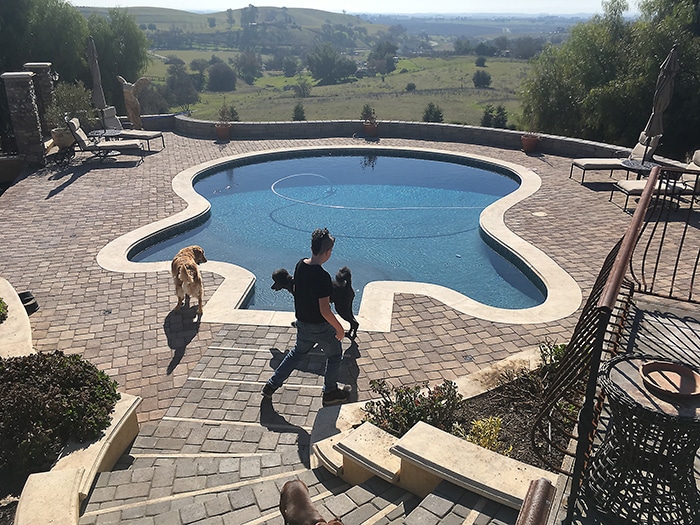 But once he started speaking with bigger name musicians, others readily agreed to be interviewed on his YouTube shows.
Music Gear Network is also a family affair. It's moderated and produced by Broadbent's wife, Sandra, who "makes sure no train wrecks happen." And Eric Jr., 13, who is also a guitarist, has done the odd interview and can work the camera.
Most everything Broadbent does on YouTube is live streaming, allowing for real-time interaction for his viewers.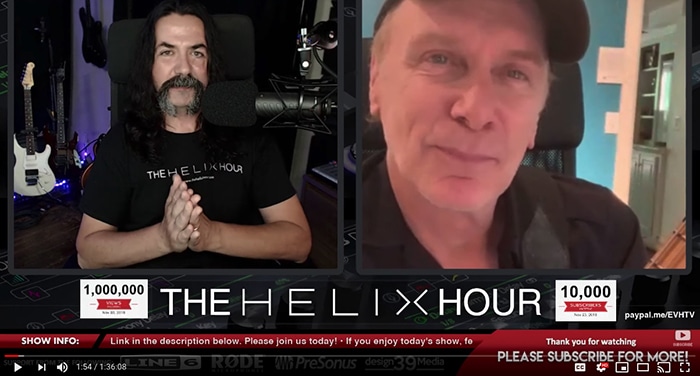 Because of his live streaming, Broadbent keeps a strict schedule for his programming. Rock Shop Live airs on Fridays at 10 p.m.; the Helix Hour runs Sundays at 3 p.m.; and Kramer Korner rolls Tuesday evenings at 9 p.m.
Broadbent loves the live aspect of streaming.
"The cool thing is the live interactivity, especially with some of the guests we're getting. It's a chance for people to ask one of their lifetime heroes their own question in the live chat," he said.
While it remains a labour of love, Broadbent knows he has to put the effort in to obtain and retain viewers.
"I've really started working hard at it to produce the content. There are a million people trying to do what we're doing," he said. "Content is king. You have to make sure it's worthwhile to make it worth it for people to come back."
And it's all streamed from East Kent, with performers connecting via the Internet to be interviewed.
"Your home base is technically global when you are on that microphone," Broadbent said. "Everything is done right out of Ridgetown. We love it here."
He added many people just don't realize the potential of the Internet and what it means to where you can operate and still maintain a wide reach.
"It's something people find surprising, that we're operating out of a small town. And fibre (optics) will improve things when it arrives," he said.
For the future, Broadbent plans to continue to offer people "some alternatives to television" and expand his reach, and continuing to interview some of his favourite celebrities. He's working on interviewing the likes of 15-time Grammy nominee Joe Satriani and Slipknot axe man #4, aka Jim Root.
"And we have the international connection via YouTube. It's so cool, and I don't even have to leave the house," Broadbent said.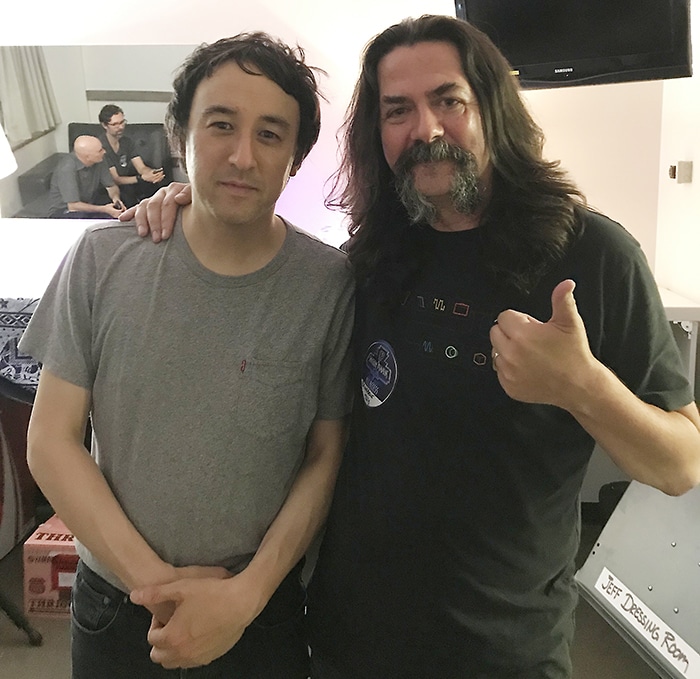 Comments
comments