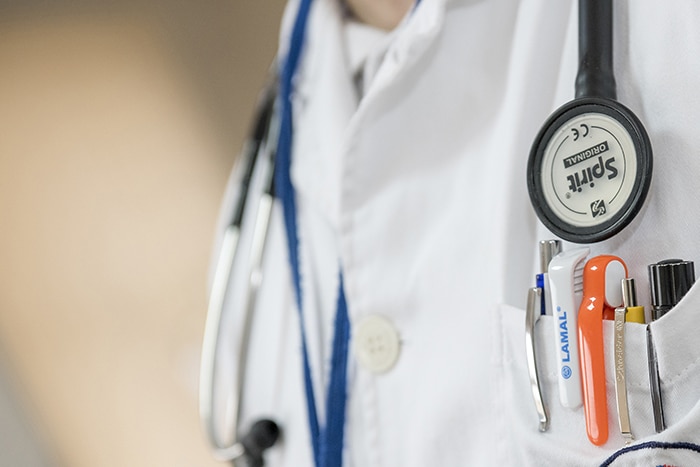 Less than a week after Chatham-Kent Health Alliance officials told the media to "stay tuned," the province announced approval for the formation of a C-K Ontario Health Team.
Five days after Lori Marshall, president and CEO of the CKHA and co-chair of the C-K OHT proposal, said those words, local MPPs Rick Nicholls and Monte McNaughton made a formal announcement.
They met with health organizations on Saturday morning at the Chatham-Kent Family Health Team's offices on Emma Street in Chatham to make the announcement.
The C-K OHT is one of the first 24 teams in the province to implement a new model of organizing and delivering health care. Provincial officials said this model better connects patients and providers in their communities to improve patient outcomes.
Through an OHT, officials said patients will experience easier transitions from one provider to another, including, for example, between hospitals and home care providers, with one patient story, one patient record and one care plan.
"This is an exciting time for health care in Ontario as we finally break down the long-standing barriers that have prevented care providers from working directly with each other to support patients throughout their health-care journey," said Christine Elliott, Deputy Premier and Minister of Health, in a media release. "Together with our health-care partners, the C-K OHT will play an essential role in delivering on our commitment to end hallway health care and building a connected and sustainable public health care system centred around the needs of patients."
Patient advisor Judy Gragtmans, who also co-chaired the C-K OHT proposal, said she was happy to see the inclusion of the views from the patients' perspectives throughout the process.
"Patient advisors have been included in this journey right from the beginning, and by the time we submitted the C-K OHT application, more than two dozen patient advisors had contributed invaluable input based on their individual experiences with the health care system," she said. "There is no doubt in my mind the C-K OHT partners will remain committed to including the patient, family and caregiver voice moving forward, ensuring an improved local health care system for everyone."
Marshall said receiving approval is the payoff for months of hard work from a wealth of individuals and organizations.
There are 15 signatory organizations involved in the C-K OHT at this point, she said, with more set to come on board as the OHT evolves.
"I would say that because of the deep and broad level of co-operation in Chatham-Kent, we were pretty confident that the plan we put forward is both achievable and was something the ministry would be interested in supporting," Marshall said.
At this stage, the C-K OHT is focused on adults aged 55 and older who have some level of chronic disease, Marshall said.
"That's about 11,000 people out of our population of 105,000," she said. "The signatories do all help part of that population. We all continue to provide all of the care we do now and then working together, we will focus on that group in Year One."
As the scope of the C-K OHT expands, so too will the number of people supported by its programs. Marshall said in Year Two, everyone aged 55 and over will fall under its scope in terms of health care and services.
The scope expands to encompass all adults a year later, and then it will incorporate the youth after that.
"I'd say the major piece about the OHT is to look for better ways to connect people across the health-care system," Marshall said. "It's about faster access to needed care and getting the right care."
Marshall said while C-K has its OHT approval, that doesn't mean there is a designation as of yet under the People's Health Care Act.
"It's the go ahead to start working on that Year One plan. The next step is April 1 when we will come together to do that," she explained.
Marshall stressed the OHT will not replace the Erie-St. Clair Local Health Integration Network (LHIN).
"Currently, the LHINs are still in place. They just have a different reporting structure and have gone into more of a regional type network," she said.
Instead, the C-K OHT allows the participating health-care organizations to concentrate on what's best for local health care.
"The health team gives us the ability to really focus at a local level and what the needs of the population here are," Marshall said. "It's significant that the government has encouraged communities to come together and design what makes sense for themselves versus dictating a model. That has inspired a level of excitement that is going to help us be successful."
As for the LHINs, Marshall said for now they will still be responsible for home and community care. Over the course of the five-year plan for the OHT, Marshall expects the province will develop policy on how such care will continue in the future.
Comments
comments