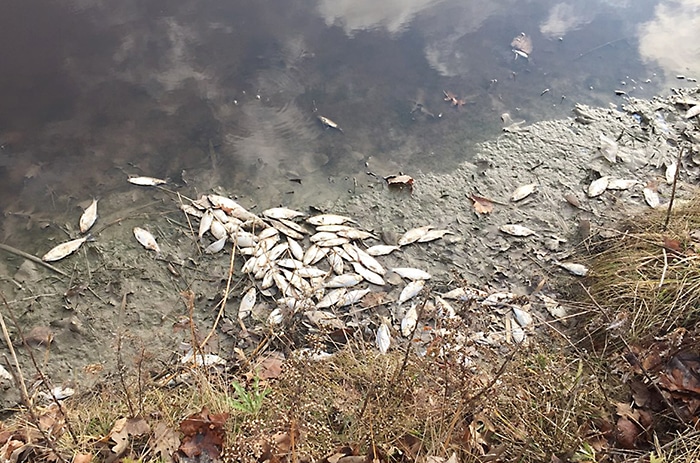 An area resident raised concerns about dozens of dead fish in a municipal drain in Tilbury recently, in fear that there was some kind of toxic spill that killed them.
Taking pictures of the dead fish, former Dover Twp. resident Marc St. Pierre said he called several agencies last week to report the problem, including the Ministry of Natural Resources, but hadn't heard back from anyone.
Municipal staff, when called on Nov. 29, were aware of the problem and investigated the drain in question.
Tim Dick, director of drainage and asset management with the municipality, said the dead fish problem in the Mallott Diversion Drain wasn't the only such incident they addressed recently.
"We have had a couple of other situations similar in the past week. We have not been able to identify any location or any evidence that leads us to believe there has been a spill," he said. "We are of the opinion that this is a naturally occurring phenomenon."
In investigating the fish kill, Dick said staff initially looked for a sheen on the water that's indicative of something of a petroleum base.
"Did a fuel tank rupture or something like that? We couldn't identify anything," he said.
Dick said it's likely the water just didn't contain enough oxygen to sustain the fish.
"You will see oxygen depletion occur at times when there's not a lot of flush to the system. We haven't had a lot of rain," he said.
Add to that the fact the area in question is quite flat, and the water level in Lake St. Clair is high, and there is very limited flow.
"The Mallott Diversion Drain is basically at lake level. It's very flat from there to the outlet at Jeannette's Creek," Dick said. "The water's stagnant. It tends to not get as oxygenated."
He said municipal officials notified the provincial Ministry of Natural Resources of the fish kill.
"We inform them of what we find and it's their decision as to if they want to investigate," he said.
Comments
comments