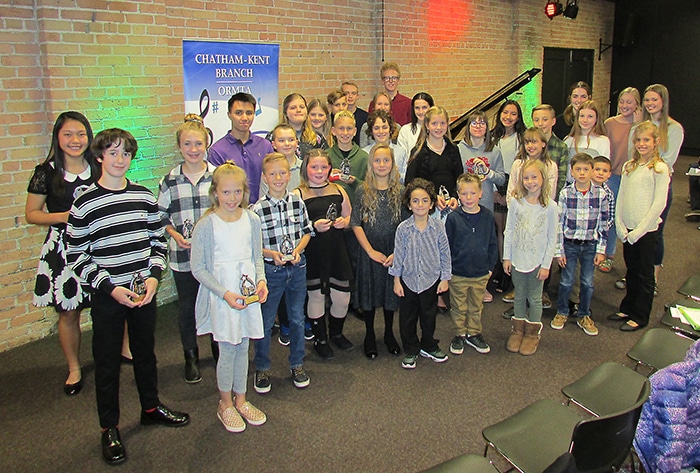 The Chatham-Kent Branch of the Ontario Registered Music Teachers' Association (ORMTA) recently held its annual Awards Piano Recital at Studio One in Chatham, featuring all of its piano students, from Grade 1 to Grade 11.
Local branch executive Alice Van Stempvoort, president; and Holly Ball, treasurer; handed out awards to winners in the Royal Conservatory of Music piano and voice categories before the recital began.
Hall commended the students on the "hours and hours of hard work and dedication" they put in to achieve the awards and all the students performing for family and friends.
Students performing at the awards night were: Coen Joukhadar, Esther Burggraaf, Harrison Holsappel, Evan Koscielski, Sydney Phillips, Adele Flikweert, Cara Flikweert, Cristelle Suffi, Makayla Wilson, Ben Holsappel, Arden Pestowka, Isaiah Flikweert, Meg Avery, Andrew Locke, Ayden Joukhadar, Dalia Boyko, Noah Burggraaf, Leah Holsappel, Hannah Burggraaf, Aiden Yee, Cristian Suffi, Nathan Beute, Grady Vellinga, Sarina Bergsma, Abby Brown, Emma Beute, Madeleine Tran, David Tran, Kyra Vellinga, Halle Brown and Eric Koscieiski.
Comments
comments