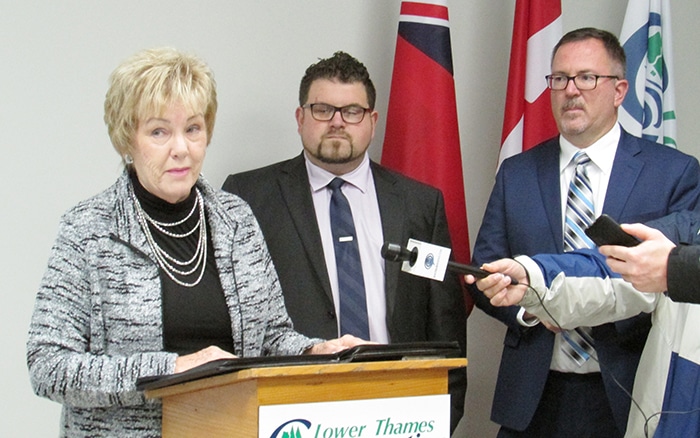 The Ridge Landfill Community Trust recently pledged $1 million to increase tree cover in Chatham-Kent, specifically in South Kent.
The trust will provide the cash, while the municipality and the Lower Thames Valley Conservation Authority (LTVCA) have partnered to get the job done.
The funds are to be used over a 10-year period to create added forest cover, wetlands and grasslands habitat.
Randall Van Wagner, manager, conservation lands and services with the LTVCA, said the funds could be utilized to enhance and create buffer strips along municipal drains and create windbreaks.
The buffer strips could be grassland habitat rather than trees.
"Trees aren't always the best solution along the edges of municipal drains," he said.
Van Wagner said the funds will be spent exclusively in South Kent, on land bordered by Kent Bridge Road to the east, Merlin Road to the West, between the Thames River to the north and the Lake Erie shoreline to the south.
Chatham-Kent Mayor Darrin Canniff credited South Kent Coun. Anthony Ceccacci for being an "instigator, in a good way" for helping to make this a reality.
The councillor said it is something he had been working on for months.
"It's a great feeling to know that six-and-a-half months of hard work is going right back into our community to our environment and it's going to be a legacy project for the community," he said. "It's just really a good feeling to see this amazing benefit coming to our community and to know we have a partnership over the next 10 years that's going to benefit our children and our children's children."
Ceccacci said he may have gotten the proverbial ball rolling, but credited the Ridge Landfill Community Trust for doing the heavy lifting by committing to providing the funding.
Cathy Smith, project manager with Waste Connections Canada, owners of The Ridge Landfill, said the firm recently planted 11,000 trees on the property around the landfill and committed 25 acres of land to be returned to its natural state.
And then Ceccacci came along to pique their interest.
The matter went to the committee that oversees the disbursement of the trust funds after that.
"We are incredibly proud that the Trust has elected to provide this money to be used to protect the local environment and create a healthier ecosystem for future generations," she said. "This will be a legacy for this existing Community Trust, which is made up of very dedicated and hard-working members, many of whom have been with the Trust for decades."
Van Wagner said Chatham-Kent has about six per cent natural cover – Carolinian forest, prairie and wetlands, the lowest of any upper-tier municipality in Ontario. In terms of tree cover, the number hovers at about three per cent.
Instead, Chatham-Kent is like one massive garden.
"We have lost some due to tree cutting but we've been planting around 100,000 trees per year," he said. "A million dollars? Jeez, it's huge. We can really see some impact from this."
No one will say how many trees will be planted with this commitment as natural grassland and wetlands could be involved, but Van Wagner said each seedling costs about $1.
Further, Mark Peacock, CEO for the LTVCA, is confident they'll be able to land other partners for the project, adding additional dollars.
"We are confident with the assistance of other partners, the funds can be turned into $3 million over the next decade," he said. "But that $3 million wouldn't happen without this generous donation."
Linda McKinlay, chair of the LTVCA, said everyone connected with the conservation authority is looking forward to getting to work.
"Our board of directors and staff are very excited about this donation as we have a proven track record of finding matching dollars; for turning this donation into something greater," she said. "But this announcement, oh my, it's big!"
Earlier this month, Ceccacci successfully introduced a motion to direct municipal administration to prepare a report with the goal of planting a minimum of one-million trees within four years, identifying public lands that can be utilized to help make this a reality, looking at how other communities are addressing tree planting, seeing how to encourage land owners to plant and maintain tree cover and find partners who can help make the goal a reality.