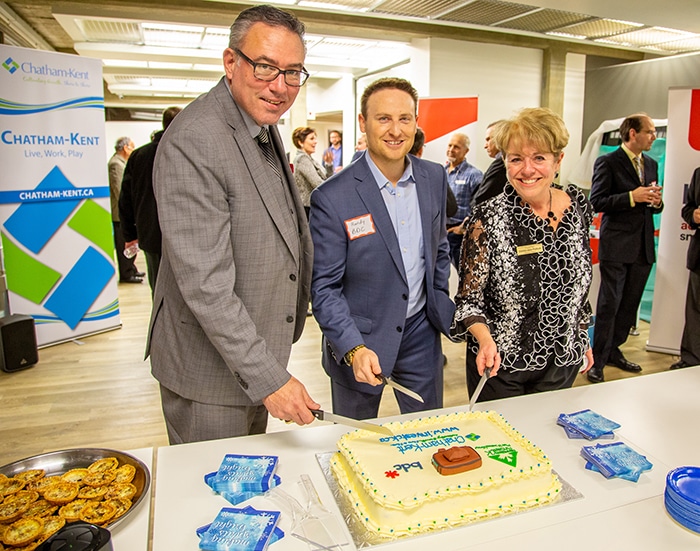 A little over a year ago, Chatham-Kent Economic Development moved from its temporary space, spread across the Civic Centre, to a new home at 124 Thames St. in Chatham. The move not only brought the Economic Development team together all in one spot, but also created the opportunity for new business development partnerships with Community Futures Chatham-Kent (CFCK) and BDC (Business Development Bank of Canada).
Last week at an open house, hosted by SOAR Innovation, the three partners celebrated their one-year anniversary and the successes that their newfound partnerships have achieved.
"What stands out for me is how we have businesses come in through our doors to work with us, asking key questions about financing to grow and expand, and we can immediately show them the resources they need. It's a win-win-win," said Stuart McFadden, Director of Chatham-Kent Economic Development, in a media release. "The success is being noticed not just in Chatham-Kent, but we are hearing from other communities across Ontario that our model of collaboration is the model to follow."
Randy Myers, Senior Account Manager with BDC, commented on the open house event.
"It was a great night of networking amongst people from a variety of businesses and those who have supporting roles within our business community," he said.
According to Myers, his hope is that everyone walked away with a better understanding of BDC, financing and advisory options, and how the three organizations can be valuable partners to local businesses.
"We are very lucky in Chatham-Kent to have the buy-in from all three organizations to utilize our synergies and common goals in supporting and growing our local business economy, and helping our entrepreneurs succeed," added Myers.
Donna Pollock, Executive Director of CFCK, was asked about their role in helping businesses to grow and she spoke to the value of working with local people who are vested in seeing a business succeed.
"When a client comes to Community Futures looking for financing, it is so important for us to have a conversation about how we can work together to ensure they are successful. Our team and our board help the client take the steps they need to ensure that their plan is fully thought out and ready to execute before they receive any influx of money," said Pollock. "There have been several times over the past year we have called on our partners in the building to be a part of critical conversations, something that was not always an option before we began to collaborate."