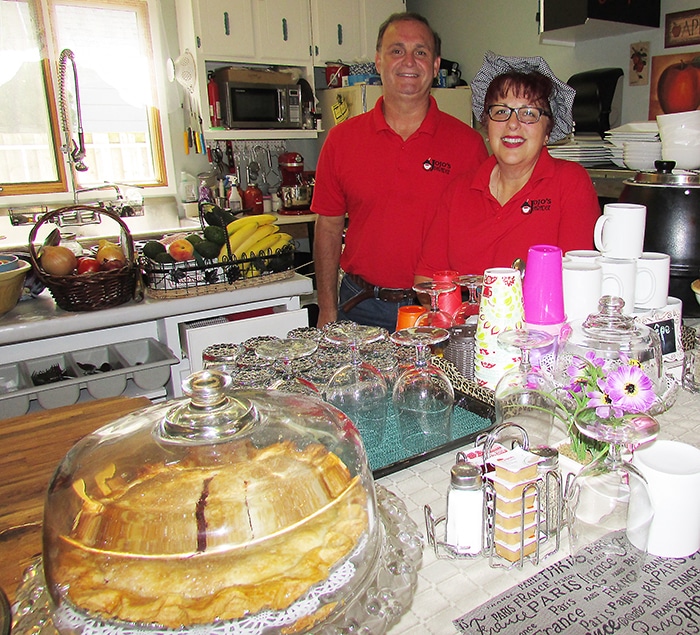 Driving down Main Street in Ridgetown, when you see the sign for JoJo's Paradise Bed and Breakfast, you might want to make a point of stopping in to see what owner JoJo Thibault has cooking in her bakery and café behind the house.
Thibault is a colourful whirlwind of a person, with a beautiful soul, who is just itching to feed you, and she pours her love of cooking into all the offerings she has in her small café. Open just over a month ago, the café and bakery are a perfect accent to her bed and breakfast and hair salon she already operates at her Main Street location.
A teacher of hospitality courses at John McGregor Secondary School in Chatham, Thibault promotes her love of food and cooking to students by day, and goes home to Ridgetown on Wednesday and Thursday evenings to transform hair and make people feel good about how they look.
On weekends, Thibault opens the café with the help of husband, Daniel, and employee Jody Palmer, offering her signature crepes, pies, French apple cake, tarts, muffins and so much more from 7 a.m. to 2 p.m.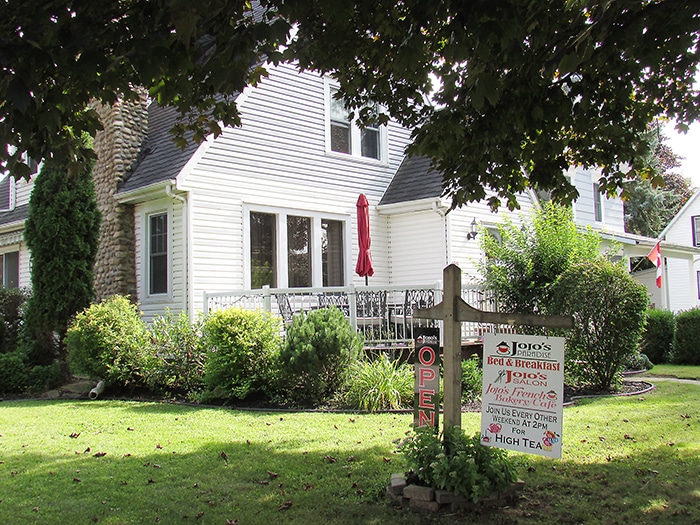 Two times a month, she also offers a Victorian-style high tea experience – with a bit of French style added – which includes an appetizer, chocolate fountain, scones and sandwiches. She said her patrons love it, dressing up in hats, with a prize for the winner of the best hat. The cost is $25 per person and she said no one walks away hungry.
"Growing up, my mom and grandma were always in the cooking industry. My grandma had her own little restaurant and farm, and I just like cooking," Thibault explained. "When I used to work for the municipality, I was always making my pies, and they are my big thing. I was always making big dinners and Daniel would tell the neighbours, 'Dinner is ready,' and my friends would say, 'You are always making so much food and giving it away, why don't you start your own café and sell it?' And that's what we've done – an open-concept kitchen."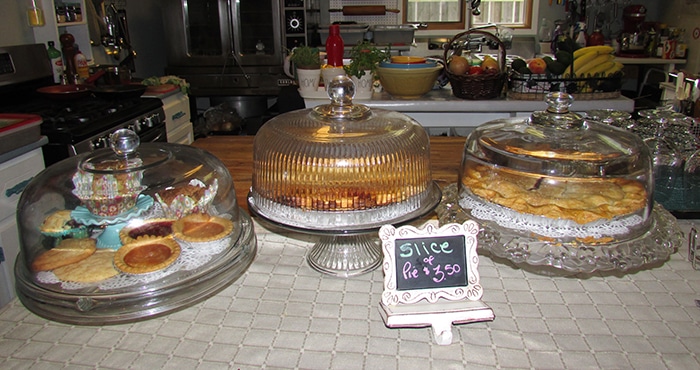 With the open concept – a counter separating diners from the kitchen area – Thibault said it is fun because people can see them make the food, see that it is all fresh and homemade and it gives the café a family dinner atmosphere.
The bed and breakfast, which has been open for two years, seven days a week, was always a dream of Thibault's and she was very excited to add the café to bring the whole property and concept together.
"I love hosting people, to make people feel good," the business owner said. "I love to treat them like kings and queens and they know they can relax, so they can rest. I can do their hair and fill their belly all in one day."
Thibault makes all of her baked goods and canned goods from local produce and all by hand.
"Everything is homemade. It is all French-style Canadian food," she added.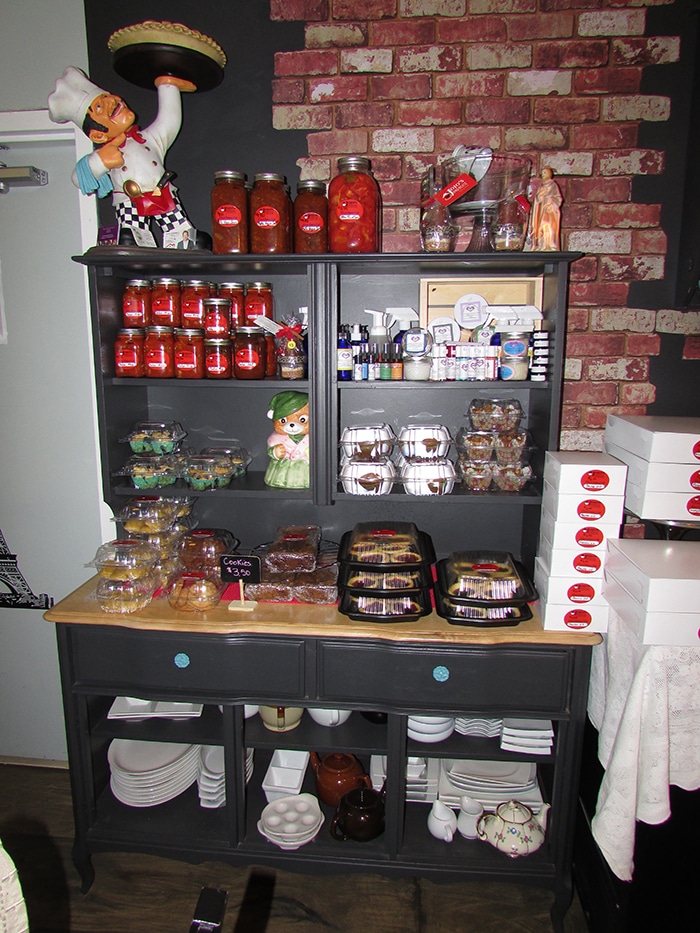 Born in Quebec, Thibault embraces her French heritage, incorporating that into her cooking style. She and Daniel travelled to Paris and she brought some of that tradition back with her to Ridgetown.
"I wanted to bring a little Paris in here, so when we used to go there, they had crepe stands, and this one we used to go to, the young man gave me the recipe. That's where my husband proposed to me," Thibault said, smiling at the memory.
Married to Daniel for the past 15 years, Thibault said cooking and sharing food with people is the part she loves a great deal.
As a very spiritual person, she said she believes God gave her the gift of making and sharing her food.
Thibault credits a big part of her success to other business owners in Ridgetown who mentored and guided her as she worked to make her dream a reality, and she works to pay it forward by supporting the community, and, of course, feeding them. Promoting the community is also a priority of Thibault's, who sells her goods at the Mindful Market Eco Hub in Blenheim.
Besides baked goods and crepes, Thibault and Palmer also crochet and knit blankets, hats and other items for sale in her café.
Paying it forward is something Thibault believes strongly in, and she told a story about the owner of Apollo Construction, Fred Naclerio, who gave her a helping hand with equipment when she started her café. All he asked for in return was for Thibault to pay it forward by taking 10 of her famous pies to the Shepherd's Way Inn on King Street in Chatham, something she was happy to do, plus much more.
"We went there and donated pies, bread and muffins on behalf of Fred, and we want to give him a big thank you. He helped us out so much and then we helped out by paying it forward. That is what community is all about," she said.
The business is located at 96 Main St. in Ridgetown, and Thibault can be reached at jojoparadisebnb@gmail.com. To see more, you can also check out JoJo's Paradise on Facebook.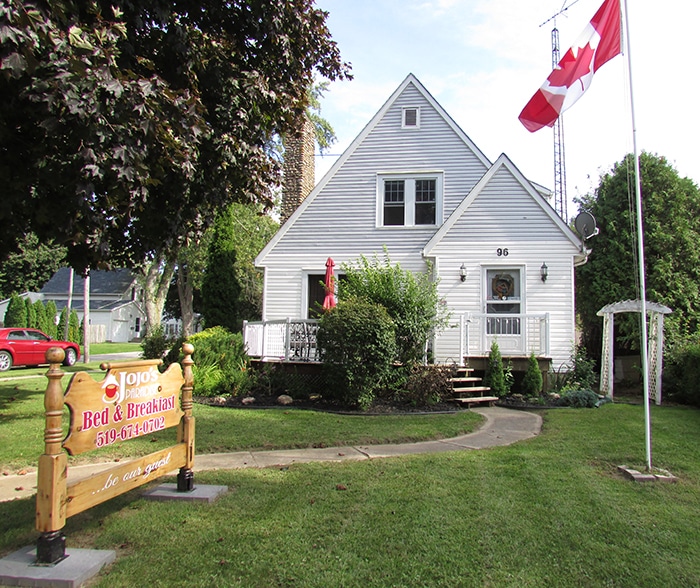 Comments
comments