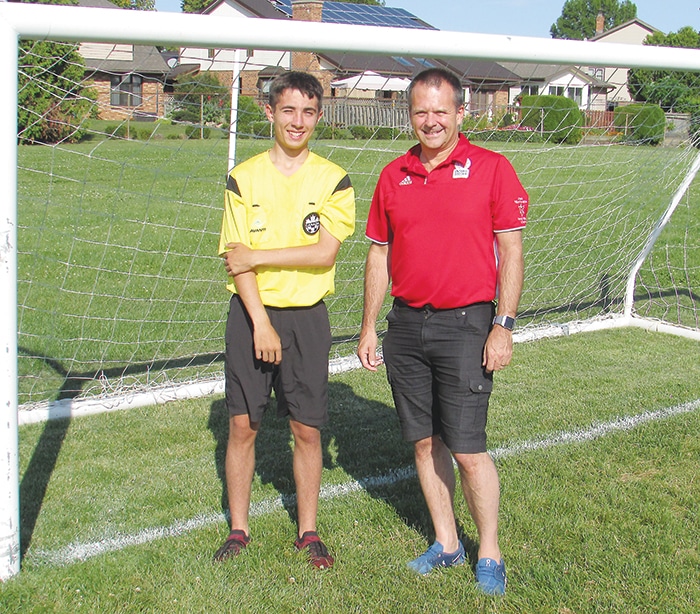 Chatham's Patrick Ansell has a dream of one day making it to soccer's World Cup.
Except that dream has the teenager officiating a match, not playing in one.
Ansell, 16, recently received high provincial praise for his officiating skills, being one of 21 soccer referees in Ontario to recently receive a Spirit of the Game award from the Ontario Soccer Association.
Wayne Sharp, district referee co-ordinator for Lambton and Chatham-Kent, said the provincial awards are to recognize dedicated referees in Ontario.
In Sharp's district alone, there are about 140 referees, and Ansell got the nod.
"When you look at his development, it's really easy to see why he was chosen. He checks all the boxes," Sharp said of Ansell. "There's self-improvement, development and giving back. He took a mentorship program this year."
All at age 16.
Ansell, who is going into Grade 11 at Ecole secondaire catholique de Pain Court (ESPC), only started officiating the game four years ago. Today, he's overseeing play for young kids to adults, and still manages to play as well.
He took up the officiating side of the sport just because he thought he'd like it.
It turns out he does, and his love of the game is getting noticed.
Ansell has officiated at everything from children's house league games to travel and adult soccer. He has even officiated at OFSAA (Ontario Federation of School Athletic Associations) matches.
For Ansell, he admits refereeing the youngest soccer players can be a challenge.
"The little kids – it's tough as none of them know the rules," he said.
And then there are the soccer moms and dads.
"You get the odd parent that is chaotic," he said. "But normally they are pretty relaxed."
With dreams of one day officiating a World Cup match, Ansell said he'd like to take his love of officiating as far as he can.
Sharp said anything is possible.
"They are opening a clear pathway for young officials to help them reach as high a level as they want to reach," Sharp said of the Ontario Soccer Association.