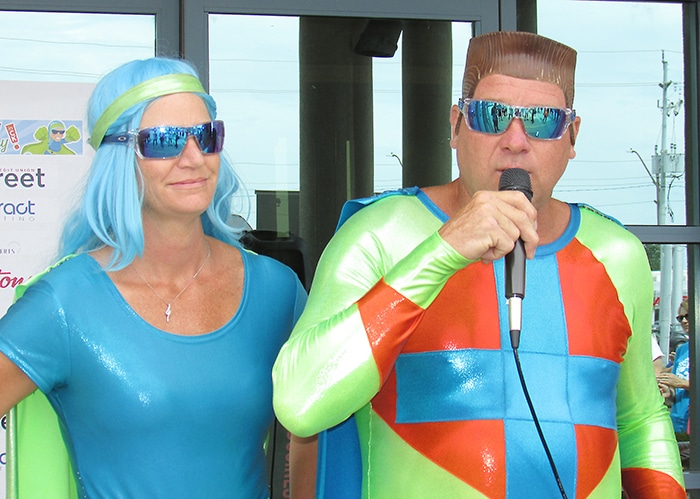 It's back – 12 Days of Positivity in Chatham-Kent.
Whether you are a glass half full or half empty kind of person, you can't deny that the positivity movement first inspired in 2016 by Darrin Canniff and Jason King is gaining momentum and supporters across the municipality.
When Captain Positive and Opti Woman set foot into an elementary school or show up at a community event, kids' fingers start flying to throw up the Positivity sign, and the dynamic duo gets swarmed to receive hugs and have pictures taken.
And why is that? Because kids like to be around happy, positive people who make them feel good about themselves and the community around them. Kids get it. And now more adults are getting it too.
It feels good to be positive; to spread goodwill and happiness around, instead of constantly bashing or naysaying people and events in the community.
That doesn't mean people should always assume everything in the municipality is sunshine and roses, because it's not. But we do have so many amazing things going on with positive, energized people behind them.
As Captain Positive said, positivity is contagious. When we lift people up instead of bash them down, that feeling spreads. Think about how you feel when you pay for someone's coffee in line at Tim Horton's, or shovel your neighbour's driveway or visit someone who is sick or lonely – it's a good feeling and matches the feeling of the person you are helping.
We have issues that need to be addressed in Chatham-Kent, but we also had an incredible summer of fantastic events that helped put us on the map. The quality of life those events and projects give to the community, as well as a can-do attitude, are what draw people and business here. With that come jobs and more opportunities for our young people.
So, raise your half-full glass during the 12 Days of Positivity and vow to be a positive influence for your family, business and your community and take that feeling with you the rest of the year.