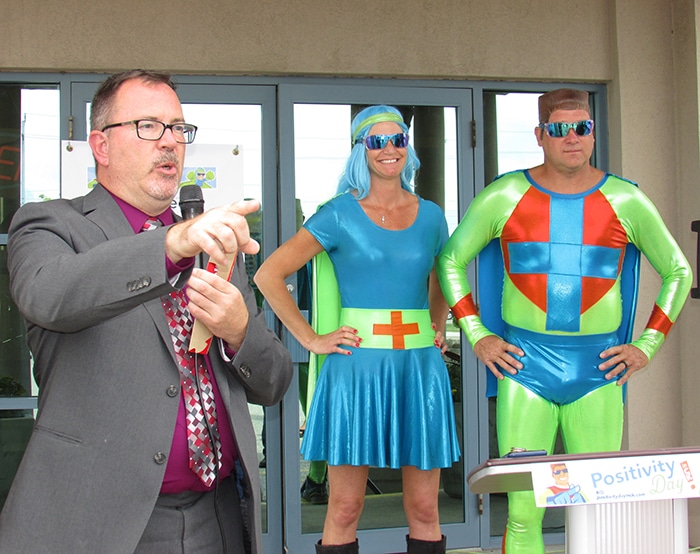 With the sole purpose of spreading a positive message across Chatham-Kent, the fourth annual 12 Days of Positivity are gearing up for a start date on Sept. 23.
Chatham-Kent Mayor Darrin Canniff joined Captain Positive, Opti Woman and the organizing committee in making the announcement at the office of major sponsor TekSavvy over the lunch hour on Monday. The 12-day event will run Sept. 23 to Oct. 4 with themes each day to help the community join in on spreading the message to all the local people, businesses, community groups and organizations.
"When we started this four years ago, it was all about changing the culture of Chatham-Kent. Over the last three years, I certainly believe we've moved a long way in doing that," Canniff noted. "I've seen a lot more positivity, even just in attitude in the community."
Pierre Aube Jr., Chief Operating Officer for TekSavvy, explained his reasons for getting involved in positivity days.
"I remember four years ago when the positivity day crew came to our office, and I remember thinking, 'What is this? Why is there a guy in spandex in our office?' and then I'm like, 'This is pretty cool' and four years later we're still going," Aube said at the kick-off event. "I certainly feel like there is more positivity around Chatham-Kent and that's why TekSavvy is a sponsor and will continue to be a big sponsor because it makes a huge difference in our community."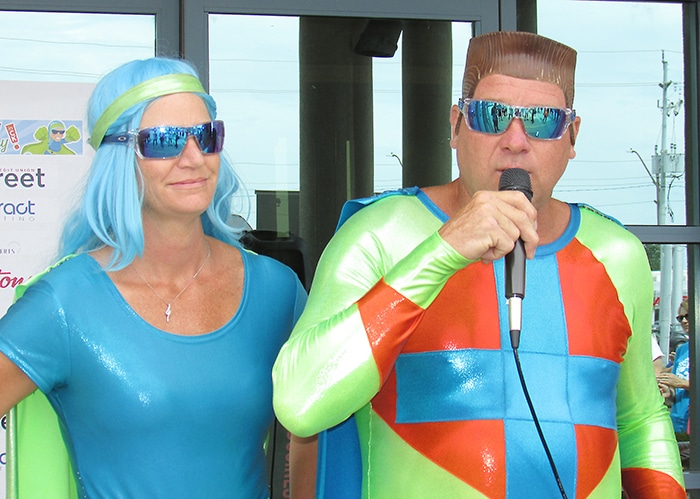 Captain Positive and Opti Woman, who visit every elementary school in the municipality, were giving out capes to kids at the event.
"Positivity is contagious… and when it spreads, it spreads like wildfire," Captain Positive said, thanking the media for helping to spread the word.
Different this year, however, is the start date of the event, he noted, which was moved back to later in September to give school kids a chance to settle in and then gear up plans for Positivity Day events.
The Captain thanked all the sponsors involved in putting the 12 days together, and for believing in the purpose of the event – TekSavvy, Tim Horton's, Apollo, Abstract Marketing, Plant Print, Downtown BIA, Blackburn and Post Media.
The sponsors who are again putting up the major prize on Oct. 30 of $10,000 in combined cash and travel vouchers are Main Street Credit Union and Vellinga's Travel. The prize will be given out to one lucky winner who will get a ticket into the Capitol Theatre balcony by being recognized for being positive and spreading positivity.
Captain Positive and Opti Woman will be on the look out for positive people, and media outlets will have tickets to give away as well. Canniff said the balcony holds about 420 people and one seat holder will win the $10,000.
Opti Woman said she is "pumped" about this year's festivities and looks forward to what people will come up with.
"It just gets bigger and better every year. What other city do you know of in the world where they take 12 days and the whole city gets together and does a positivity movement; that does something good for other people for 12 days?" she noted.
The Captain put out the challenge to all businesses big and small to do something with customers or staff and send what they did to the Positivity Days website to let everyone know what is happening across the community.
Chatham Breakfast House and Grill will again be putting on a community lunch this year at no cost to bring community together at the Chatham Armoury beside Tecumseh Park. Brian Machado said they will be adding entertainment with All That Jazz dancers along with pizza from Pie Zano's.
"It's our way of saying thank you and making everyone feel great and positive. We want to give back to a community that has given so much to us," Machado said.
For more information on the event, go to http://positivitydayinck.com/.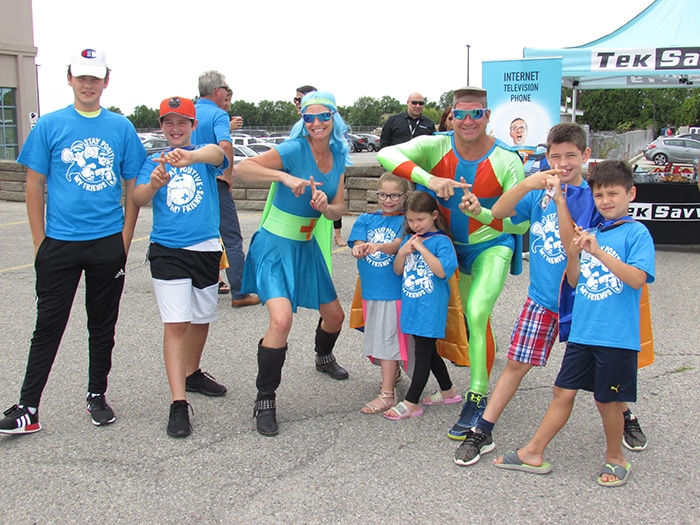 Comments
comments