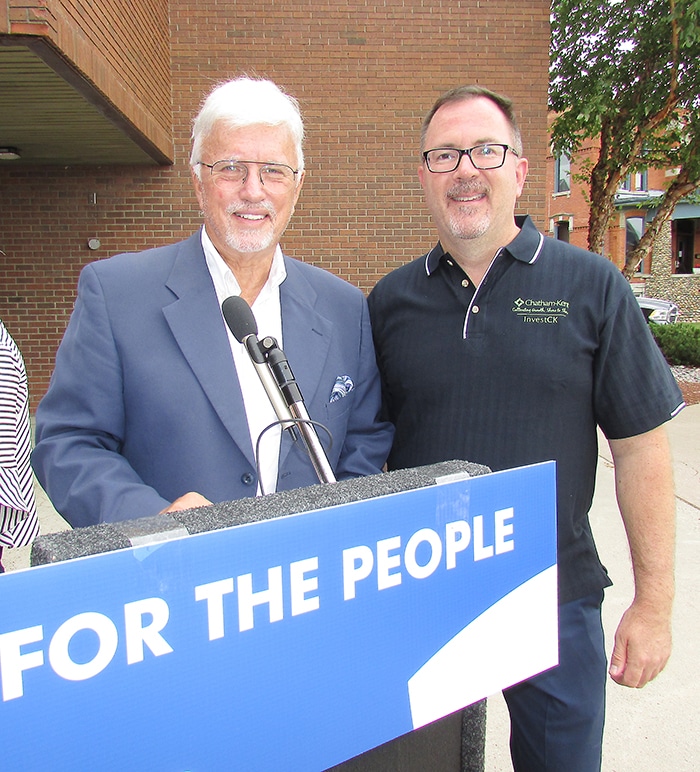 The Ontario government has nominated three transit projects in Chatham-Kent for funding under the Investing in Canada Infrastructure Program.
Chatham-Kent Leamington MPP Rick Nicholls announced Aug. 16 that the Ontario government is investing close to $1.8 million in four transit and road infrastructure projects; three in Chatham-Kent and one in Leamington by nominating them under the Public Transit stream and Rural and Northern stream of the Investing in Canada Infrastructure Program (ICIP).
"Building and maintaining great roads, bridges and transit infrastructure will help people who rely on our roads and public transit to get to work and home safely. We are working closely with our municipal partners, families and small business to build needed infrastructure in our community," said Rick Nicholls.
The projects are now with the federal government for final funding decisions as they are reviewed for eligibility under the ICIP program. Some projects could begin as soon as fall 2019. If approved, the nominated projects will be eligible for total funding of more than $5.8 million from the federal, provincial and municipal governments.
Chatham-Kent Mayor Darrin Canniff said he was surprised by the announcement but is grateful for the timely influx of cash, if approved, to help move the area transit strategy forward.
Under the terms of the ICIP program, local municipalities and the provincial and federal governments each contribute one third of the cost, making the total value of the Chatham-Kent projects at $4.8 million.
The C-K projects include rehabilitation of the transit terminal and bus shelter, the purchase of public transport vehicles and transit information and technical upgrades.
"Providing efficient, affordable public transit is an important goal of the municipality. It is both an economic and social driver in our community," Canniff said. "We have launched Driving Forward, a strategy for the improvement, growth, and sustainability of public transit and are consulting with residents, businesses, and key stakeholders through https://www.letstalkchatham-kent.ca/CKTransit-strategy in order develop recommendations for new policies, projects, and operating service standards that will guide CKTransit over the next five-to-10 years."
The Investing in Canada Infrastructure Program is federal-provincial cost-sharing program that includes up to $30 billion in federal, provincial and other partner funding over 10 years. Ontario's share per project will be up to 33.33 per cent or about $10.2 billion spread across four streams: Rural and Northern, Public Transit, Green, and Community, Culture and Recreation.