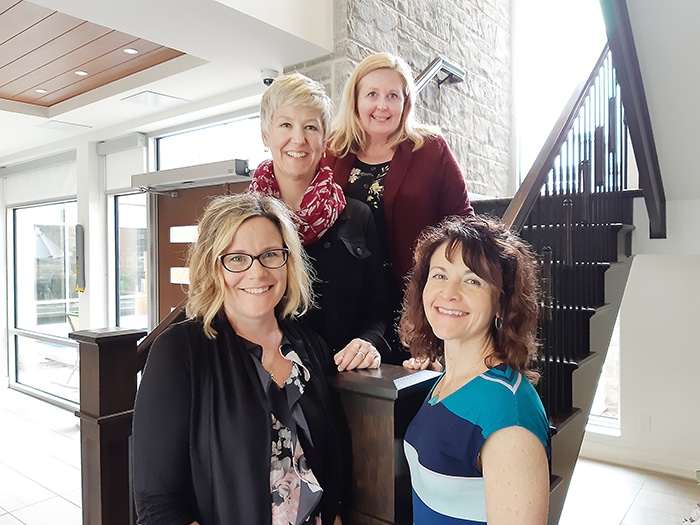 The Chatham-Kent Hospice is ramping up its efforts to help people cope with the loss of their loved ones.
After receiving an Ontario Trillium Foundation Seed grant in 2018, the hospice was successful in receiving a $325,900 Ontario Trillium Foundation Grow grant. With this second grant, the hospice has expanded its "Well Within" Grief and Bereavement programs to further support and connect individuals and families dealing with the loss of a loved one.
Included in these programs and services are weekly "Yoga for Healing" sessions where participation has been growing since its kickoff in July 2018, six-week-long Grief and Bereavement Walking Groups, and a Healing Art Program.
The hospice is also hosting Coffee Talk Drop in sessions the second and fourth Tuesdays of every month in collaboration with Family Service Kent. These sessions are for individuals who may not wish to commit to an ongoing program but would like to connect with others who have experienced the loss of a loved one.
A Caregiver Night Out program has also been established to give caregivers, who are living with a loved one with a life-limiting illness, a night to be cared for by healing professionals.
Starting in the fall, there will be a bereavement support group that will connect individuals around their common experience of grief and provide an opportunity to share experiences and discuss coping strategies.
The "Well Within" team is currently booking appointments for individuals who are seeking one-on-one and/or family bereavement support. Counseling services are offered by trained professionals on the Well Within Supportive Care team.
These professionals include social workers, a spiritual care provider and a music therapist.
All Well Within programs are offered at no cost, confidential, and accessible to Chatham-Kent residents with no referral necessary.
"It is evident that the need exists for these services, by the relief and appreciation that is expressed from clients and families who learn of our programs and from the response of community professionals who are grateful for somewhere to refer people in need of grief and bereavement support" said Sally Reaume, program co-ordinator, in a media release. "Thankfully, our Ontario Trillium Foundation Grow grant has allowed for us to provide a variety of programs for those in need who may not be able to access these services otherwise."
Reaume, along with the Supportive Care program team including Melissa Cadarette, Bridget Murphy and Candace Rahn, continue to use participant feedback and evaluations to shape programs and services to come. With the feedback we have received over the last six months we have enhanced our programs and continue to develop new initiatives that will meet the needs of our community.
Those looking for more information or to register for one of the programs mentioned above are asked to contact Reaume directly at 519-354-3113, ext.2406 or by e-mail at sreaume@chathamkenthospice.com.
Comments
comments