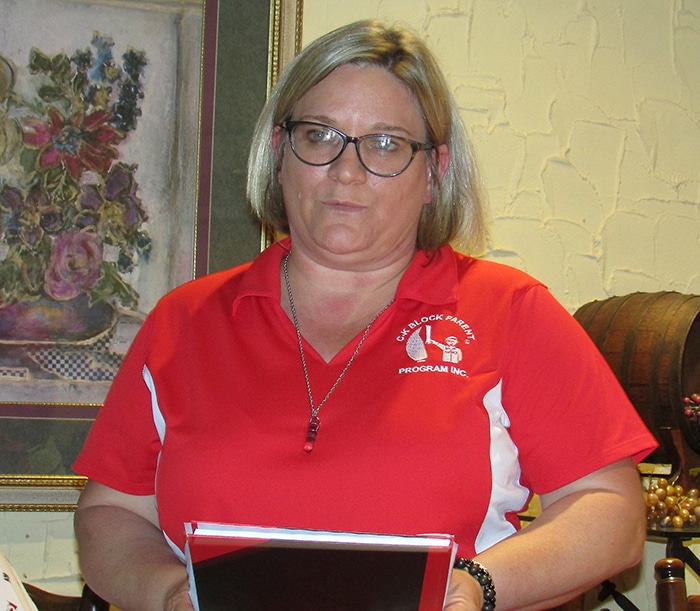 It was with a stiff upper lip, the board, staff and volunteers of the 40-year-old Block Parent Program of Chatham-Kent held their last board meeting to wrap up business and look back over all they accomplished.
Held at Rossini's Restaurant recently, the board meeting was a chance for current and past board members and Block Parents to talk about how the agency evolved over the past 40 years to include child and senior safety information, Block Parents in almost every part of the municipality, and Halloween safety programs.
Board Chairperson Tanya Nooyen said since it was announced late last year Block Parents didn't meet the new criteria for funding from the United Way of Chatham-Kent, they had been seeking new donors for the $30,000 per year funding, without success. The funding pays for the office rent in the United Way building as well as two part-time staff members.
"In order to continue to run Block Parents the way we have been doing it, we need roughly $30,000 to do it. We've grown, we've evolved and we really aren't willing to go back to bingo money and spending all our time fundraising instead of getting out and doing the things we should be doing, which is educating the community and reaching out," Nooyen said at the meeting.
She said the board had to make the hard decision, after "turning many stones over and a phenomenal amount of our own grief," and trying to answer the questions of the public about just running the network of signs by volunteer, that they weren't willing to go back to the beginning after years of growing the program to include child and senior safety education.
"We made the decision that if we were going to go out, we were going to go out on top. We had a really wonderful 40th anniversary, but prevention is hard to sell. We do hope there will be another organization similar to it because there definitely is a need," Nooyen added.
Block Parents wasn't a group that made headlines, but she said that seemed to be a big part of the organization not being seen as needed any longer in the community. The United Way has changed its focus to organizations that work with addictions, mental health, poverty and physical disabilities to address a current need they see in the municipality.
Block Parents had been under the United Way umbrella for the past 18 years.
Nooyen said the police have expanded child and senior safety and prevention programs and they were told their services were being duplicated and no longer needed.
"It's been a hard, long year, but we're certainly going out as a celebration of dedication because we certainly don't want to make it a sad affair. We have thousands of people in the community, not just around this table, who have done so much for this program," she noted.
At the meeting was past Block Parent Chair Ruth Bossence, who got a little emotional when talking about her journey with the organization.
"This is a sad night, but so many memories," Bossence said. "My hat is off to the ladies who have worked so hard to get CKBPP to where it is."
From parades in the freezing cold, rain or heat, to lugging parade supplies up and down stairs, to ID clinics, Bossence said there were a lot of laughs and good memories.
"But all good things have to come to and end. It's been really hard for me these last few weeks," she added.
She thanked Ed Sykes and Maple City Office Supplies for supplying them with a copier over the years, and talked about all the moves.
Holding up a chain dog leash, Bossence remembered it as the first prop used in the children's program to help show young kids that if someone approaches to help look for a puppy, just because they have a leash doesn't mean you should go with him or her.
She also told a story about an older couple who would walk by her house, who stopped her one day to tell her they always felt so safe going by when they saw the Block Parent sign in the window of Bossence's home. They knew it was a safe place to go.
Joanne and Bob Gillespie, Block Parents from Blenheim for more than 24 years, were also on hand for the meeting and said they remember so many kids over the years, but especially the Halloween Glow Stick program and all the kids who would come to their door and get a glow stick so they could trick or treat safely.
As a fitting legacy of the Block Parent Program, Nooyen announced that the board would be giving a $1,500 legacy grant to the Lower Thames Valley Conservation Authority (LTVCA) Sun Safety Tree Planting Project.
LTVCA Manager of Conservation Lands and Services, Randall Van Wagner, was on hand at the meeting to formally accept the donation, and said the money will purchase trees for schools across the area, providing shade during the hot weather, and was in line with the mandate of Block Parents and keeping children safe.