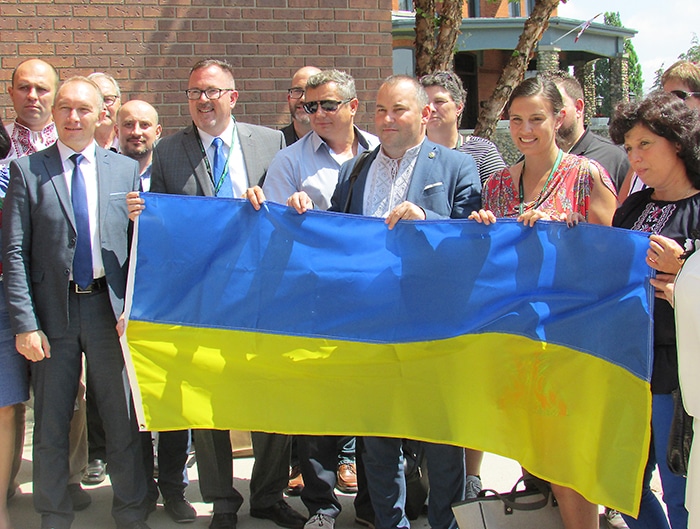 Chatham-Kent was one of two Ontario municipalities chosen to host a delegation of mayors from the Ukraine, in Canada for the third Ukraine Reform Conference in Toronto July 2-4.
In Chatham July 4 as part of a decentralization study tour organized by the Federation of Canadian Municipalities (FCM), the delegation of mayors participated in a flag-raising ceremony with Mayor Darrin Canniff and members of council, as well as a question-and-answer session and a tour of local infrastructure.
Part of the reforms being undertaken in the Ukraine is the decentralization of government, including recent amalgamation of cities and communities to form strong local government, according to the FCM. The leaders and mayors of the amalgamated hromadas (communities) spoke to council and municipal staff about service provision and infrastructure in an amalgamated municipality, as well as a common interest in a strong agriculture sector.
Canniff, with the assistance of a translator, welcomed the delegation to Chatham-Kent, and said after the Q&A session with council members, they were to spend the next day and a half touring the group around the municipality.
"The federal government chose two communities to send the mayors to; we were fortunate in Chatham-Kent to be the recipient of that. The federal government recognizes what a wonderful community we are and we're going to show them around and how municipal politics work in Canada," Canniff said. "The big similarity is they are just going through amalgamation now, merging a lot of smaller communities, and they are here to learn about what we did through our experience with amalgamation."
With the reforms in Ukraine, Canniff said they are just looking at economic opportunities between them and the municipality, including opportunities to share knowledge and work together on agriculture sector business.
The tour of the community included water and waste treatment facilities, as well as fun stops at RM Sotheby's, local beaches and many of the communities that make up Chatham-Kent.
During the flag raising, Wallaceburg resident Mike Zell, who is originally from the Ukraine, was on hand with a Ukraine flag after reading about the mayors' visit in The Chatham Voice.
Zell said he worked all over the world as a chemical engineer in the pulp and paper industry, settling in Wallaceburg with his wife to be close to their children. Members of the delegation spoke with Zell and he was encouraged to have his picture taken with the Ukraine mayors.
Delegates Mayor Oleksandr Korinnyi and Olena Kinash spoke with the media through a translator, and said they were very happy to be in Canada for the conference and to be invited to Chatham-Kent to learn more about how amalgamation worked locally, and to receive such a warm welcome.
"We would like to thank everyone who took part in the reception here and took part in the raising of the Ukrainian flag," Korinnyi said. "Canada is now home to over 1.3 million Ukrainians, and what Canada does for Ukraine, it lives in the heart of every Ukrainian, no matter where they live."
"Your amalgamation reforms and our amalgamation reforms are very, very similar, but we didn't have as much time to go through all this as your country. Our northern neighbour, Russia, which is an aggressor and (Russian President Vladimir) Putin – this is why we have to become stronger very fast and we will do it with Canadian help. I would like to thank you, and all Canadians, on behalf of Ukraine," the Mayor of Novoukrainska added.
According to the FCM, the reforms and decentralization process as it moves ahead, looks forward to creating the "foundation for a resilient, sovereign, prosperous and secure Ukraine."
Comments
comments